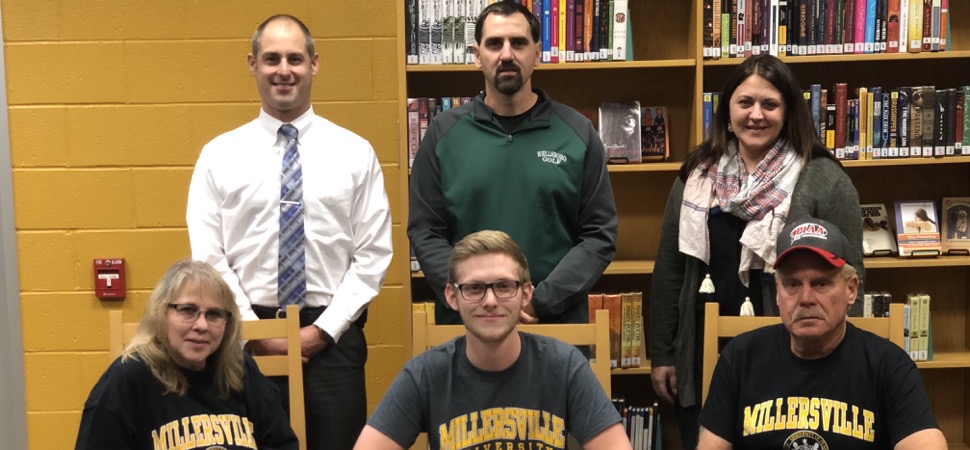 Barnett signs with Millersville
By: Ed Weaver | NTL Sports | December 5, 2018 | Photo courtesy Ed Weaver
Senior Ben Barnett signed his Letter of Intent to continue his golf career at Division II Millersville University on Monday, December 3.
Barnett has been the Hornets' top shooter for each of the last three seasons and was a two-time state qualifier. In 2018 Barnett pulled the tri-fecta for Wellsboro, helping the Hornets win an NTL Championship (their first since 2013), a District IV championship (their first since 1981), and won a state medal as he tied for 5th overall.
"It's everything I've hoped for," Barnett said after putting his signature on the dotted line. "It's been my goal ever since freshman year to get a scholarship – Millserville being the dream school. Now here I am, living the dream. I'm excited."
One of the factors that drew Barnett was the level of competition.
"It's a really big step up. I'm excited for that level of competition. I really like the coach and the entrie team, I can get a lot out of it while learning more about the game and getting a high quality education."
Barnett has been in contact with the staff since the state championships.
"He came and visited me and watched me both days then I took a tour of campus and met most of my teammates. I think it's a great group of individuals and we have a really good chance of doing something special the next four years."
Head coach Steve Macensky, who started when Barnett was a freshman, couldn't be more proud of Barnett.
"He's worked harder than anybody I've had for the last four years. When he was just a little kid four years ago I met him out of the course walking and playing by himself, I never imagined at that point four years later he would be playing at a Division II school. He's put the work in and he deserves what he's getting."