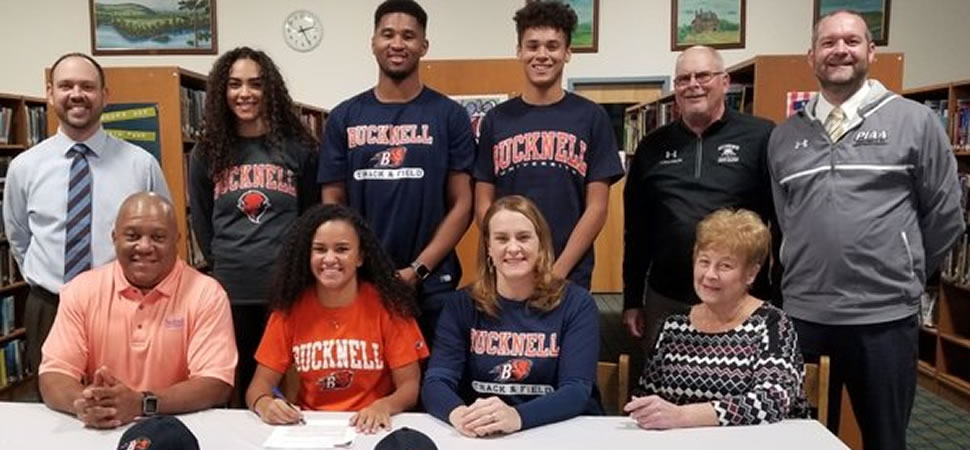 Athens' Gambrell signs Letter of Intent to compete at Division I Bucknell
By: Tim Birney | NTL Sports | November 20, 2018 | Photo courtesy Tim Birney
ATHENS — Athens senior Ariana Gambrell signed a letter-of-intent Monday afternoon to participate in track & field at Bucknell University, and will become the third member of her family to compete at a Division I school.
Ariana Gambrell will join her brother Jarred, who graduated from Michigan State, and her sister Breana, who is currently a freshman at Penn State, as D-I athletes.
"I'm following in their footsteps, but taking my own path," she said. "I'm following their path by going Division I, but choosing my own route by going to the Patriot League and not the Big 10.
"The Patriot League is definitely a different environment," she added.
Gambrell is also one of three girls in her graduating class who will be competing at the Division I level next fall. Emma Adams will be playing softball at the University at Albany, and Rachel Hutchison will be playing soccer at St. Bonaventure.
Gambrell said Bucknell was an easy choice for her.
"Everything felt perfect about Bucknell — the coaching staff, the facilities, and especially the education I can get there. Everything seemed perfect.
"I looked at some Division II schools just to see the difference in the levels of what they had to offer," she noted. "Everything I saw at Bucknell was at least one notch above anything I saw at any of the other schools.
"It seemed perfect for me because I want my school to be a notch above," added Gambrell.
"It's a very proud moment — first and foremost as a father and then as a coach," said Ben Gambrell, who has now coached all four of his kids at Athens, including Ariana and youngest brother Benny, a sophomore, this spring.
"As a coach it shows where our program is going, and the type of athletes we're producing.
"It's all about the athlete," he said. "It takes an internal fire to really want to go out there and push yourself, and produce the way a lot of these girls have over the last few years."
Ariana's mother, Lisa Gambrell, was nearly at a loss for words after her third child signed to compete at the Division I level.
"I don't know how to explain how it feels to have, not one or two, but three kids get scholarships at D-I scholarships," she said. "It's everything you could ever hope for as a parent. It's amazing.
"(Ariana) is an amazing academic student, as well as athlete," added Lisa Gambrell. "Everything she's ever put her mind to, she's done very well at. I'm very proud of her."
Ariana Gambrell, who qualified for States in the hurdles last spring, said she's open to a challenge at the next level.
"I will definitely be hurdling and jumping, but there's also been some talk of me being a multi-event athlete — the pentathlon or heptathlon.
"It's something you have to want to do, but it's also something I've never tried," said Ariana Gambrell. "It appeals to me a little bit because I think I could be very good at it, but there are some events that would really challenge me."
"That girls can do whatever she puts her mind to," said Ben Gambrell. "Whatever they decide, I'm sure she'll do it, and she'll do it well."
Ariana Gambrell knows there's still work to be done if she is to be successful at the next level.
"I'll be working on getting faster times, strength training, and just getting to the level of fitness I'll need at the college level."
She is also happy to have her decision made early.
"It's nice to have it out of the way this early in the year. It's something I won't have to worry about anymore," she said. "I can just focus on the rest of the my senior year, and performing well in my last track season."
Gambrell is majoring in Secondary Education and English.
"I want to be a teacher someday — that's always been my dream job."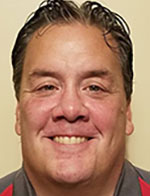 Tim Birney is the founder / owner of River Road Media Group. He was born and raised in the Valley, graduating from Waverly High School in 1984.
Birney earned an Associate's Degree in Journalism from SUNY Morrisville in 1986 and a Bachelor's Degree in Journalism / Public Relations from Utica College of Syracuse University in 1988. He began his newspaper career at The Daily Review in Towanda in 1989, before moving on to The Evening Times in 1995. He spent more than 10 years at the Times, the last four as Managing Editor.
River Road Media Group includes five sites in "The Sports Reports" family that cover 24 school districts in five counties: Valley Sports Report (launched Aug. 10, 2009), Tioga County (NY) Sports Report (Aug. 13, 2018), and Northern Tier Sports Report (Aug. 31, 2020); Northern Tier West Sports Report (March 15, 2021) Southern Tier Sports Report (Aug. 16, 2021).