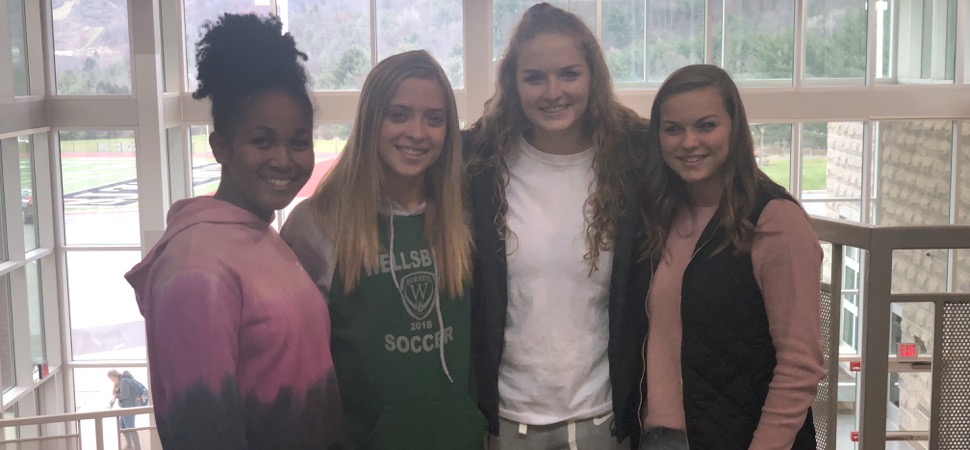 4 Lady Hornets named to NTL All-Star Soccer team
By: Ed Weaver | NTL Sports | November 13, 2018 | Photo courtesy Ed Weaver
Four members of the Wellsboro Girls Soccer team were named to the NTL All-Star team on Monday, November 12.
Seniors Zoe Iseri and Emma Poirier and sophomores Kerrah Clymer and Jena Boyce were all selected. Poirier and Clymer were 1st team selections while Iseri and Boyce were 2nd team picks.
Poirier capped her senior season with 21 goals and 17 assists giving her 54 goals and 35 assists for her career. Poirier is currently only the second Lady Hornet to score over 50 career goals behind Alexis Getty's 82 from 2007-2010.
Clymer joins Poirier on the 1st team as a Midfielder after she finished a stellar sophomore season, where she led the Lady Hornets with 25 goals, the third best in a single season behind Getty (28 and 27, respectively), and was second on the team with 13 assists. After scoring 16 goals as a freshman Clymer is up to 41 for her career.
Iseri helped anchor the Lady Hornets' defense that allowed just 44 goals (2.31 per game) and helped record 5 shutouts.
Boyce was Wellsboro's third leading scorer this season with 16 goals and she was also third with 10 assists.
WellsboroSoccer.com would like to congratulate Zoe, Emma, Kerrah and Jena on their All-Star selections.
View the complete 2018 NTL Girls Soccer All-Star team selections.