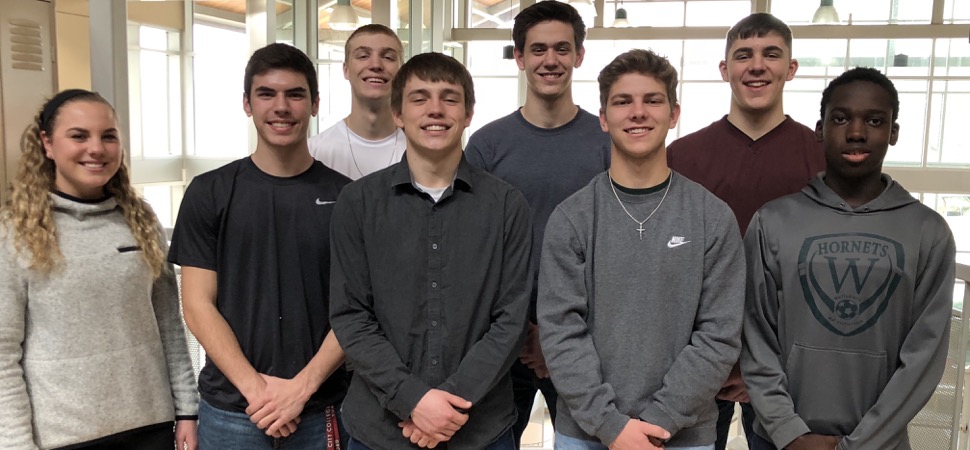 13 Hornets receive Wellsboro Gazette Winter Sports Awards
By: Ed Weaver | NTL Sports | April 17, 2018 | Photo courtesy Ed Weaver
13 members of Wellsboro's winter sport teams were recognized at the Wellsboro Gazette's Winter Sports Awards banquet on Sunday, April 8.
Senior Dalton Prough was named the boys basketball MVP, senior Tory Self was the girls basketball MVP, senior Connor Brought was the boys swimming MVP, and sophomore Cathryn Brought was the girls swimming MVP.
In addition to the MVP awards, multiple Hornets received awards from the Gazette.
Up-and-Coming All-Stars
Joseph Grab (boys basketball)
Speciality All-Stars
Nic Ingerick (boys basketball)
Rachael Tuttle (girls basketball)
Honorable Mention All-Stars
Andrew Brelo (boys basketball)
Quinn Henry (boys basketball)
Cathryn Brought (girls swimming)
Kaitlyne Kramer (girls swimming)
Brennan Warner (boys swimming)
Outstanding All-Stars
Dalton Prough (boys basketball)
Brandyn Tuttle (boys basketball)
Tory Self (girls basketball)
Lizzie Poirier (girls basketball)
Connor Brought (boys swimming)
WellsboroAthletics.com would like to congratulate all the athletes who received recognition from the Wellsboro Gazette.