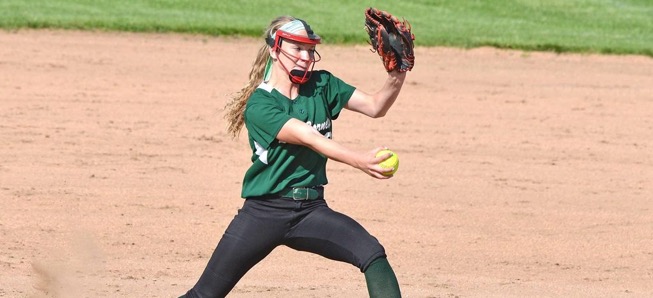 Yungwirth throws no-hitter, shuts out Jersey Shore
By: Ed Weaver | NTL Sports | May 19, 2017
Junior Alyssa Yungwirth threw a no-hitter as the Wellsboro Varsity Softball team shutout Jersey Shore 3-0 during Senior Night on Thursday, May 18.
The Lady Hornets bounced back from their second loss of the season to Hughesville on Monday for their 16th win of the season. Yungwirth dominated the entire game as she went the distance, striking out 10 of the 25 batters she faced, with only 1 walk (in the first inning). Outside of the first and seventh innings, Yungwirth and the Lady Hornets' retired Shore's lineup in order.
"Alyssa is an extremely talented pitcher and she showed tonight what she can do against a strong opponent," said head coach Ron Brought. "Coach Aaron Yungwirth works a great game calling pitches with Sydney Tremper and Alyssa."
Offensively, the Lady Hornets started out with an early run in the bottom of the first inning. Yungwirth singled to get on base. Back-to-back errors by Shore loaded the bases and with junior Brianne Keane at bat, Shore committed another error, allowing Yungwirth to score and Keane to reach base.
Wellsboro added two more runs later in the bottom of the fourth. Freshman Rileigh Gerges led off the inning as she reached on an error, and after a single by sophomore Heidi Zuchowski, Yungwirth hit a base hit to score Gerges to put Wellsboro up 2-0. Tremper grounded out to the pitcher in the following at bat, but Zuchowski took a chance and beat the tag at home plate for the Lady Hornets' final run of the game.
"The girls bounced back well," Brought continued. "They came out relaxed and played our style of softball. We put runners on base in 5 of 6 innings and produced keys hits with runners in scoring position to support Alyssa who was unhittable from the circle."
Yungwirth was 3-for-4 at the plate, freshman Ryann Adams was 2-for-4, and Keane and Zuchowski were both 1-for-3 for the Lady Hornets' 7 hits. Yungwirth and Tremper each had an RBI and Gerges drew a walk in the second inning.
The win improves the Lady Hornets' record to 16-2 (13- NTL Large School Division). The team will be back on the diamond for one final time in the regular season at home on Saturday, May 20 against Troy.