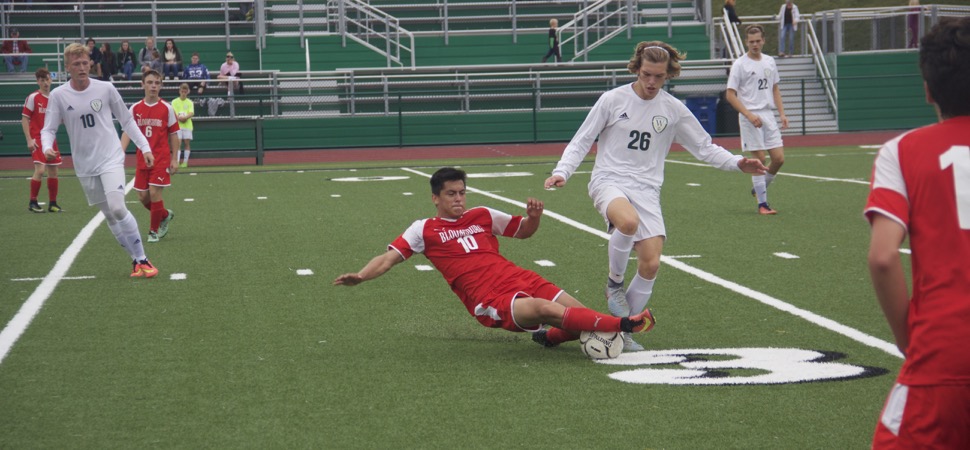 Wellsboro tops Bloomsburg 6-1 for 13th straight win
By: Ed Weaver | NTL Sports | October 16, 2017
The Wellsboro Boys Soccer team improved to 14-0-1 with a 6-1 win over Bloomsburg on Saturday, October 14.
The Hornets scored the game's first goal with 22:28 remaining in the first half as senior Noah Fitch assisted junior Brett Rudy to put the Hornets up 1-0. Wellsboro added to their lead with 54 seconds remaining as freshman Joseph Grab headed in a corner kick by senior Gabe Leach to put Wellsboro in control 2-0.
Wellsboro's high-scoring offense came alive in the second half with four goals. Senior Tanner Runyan made it 3-0 on a penalty kick with 34:29 remaining, then Rudy scored his second goal, against assisted by Fitch, with 30:47 on the clock. A Fitch penalty kick made it 5-0 with under 30 minutes remaining to play before Leach capped the scoring off a Grab assist with 16 seconds remaining.
Bloomsburg's goal came with 26:32 remaining by Thorston Hartmann.
Wellsboro took 34 shots to Bloomsburg's 6 and had a 6-0 advantage in corner kicks. Sophomore Ethan Ryan made his first career Varsity start, saving three shots.
"Overall I'm happy with the result. Bloomsburg is a very well organized the team and it took us a while to break them down," said head coach John Shaffer. "When the boys did the right things they looked very good, we just were not consistent today. But we go into the last week undefeated with a chance at a league title."
The Hornets resume play later today at Northeast Bradford.