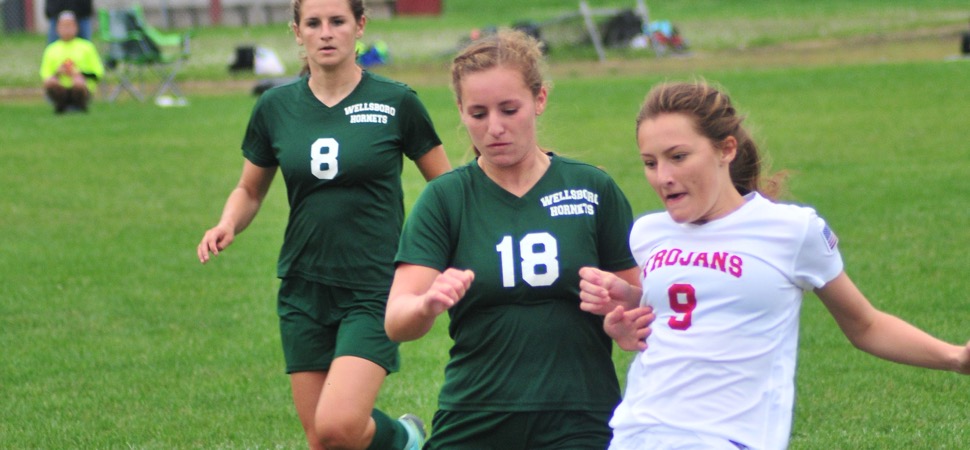 Troy, Athens, Sayre pick up girls soccer wins
By: Ed Weaver | NTL Sports | September 7, 2017 | Photo courtesy Towanda Daily Review
Troy's Riley McClelland scored her 50th career goal in an 8-2 win over Wellsboro on Wednesday, September 6.
Troy scored two first period goals to jump on top of the Hornets early on. Troy's Riley McClelland (assisted by Madison McClelland) and Nicole McClelland made it 2-0.
Later in the second period Nicole McClelland added three more goals while Morgan Graybill and Riley McClelland (2) added three more. Riley McClelland also surpassed 50 career goals on the night.
Wellsboro's Alyssa Yungwirth and Alivia Kennedy scored goals for the Lady Hornets and Sydney Tremper made 14 saves in goal.
Troy outshot Wellsboro 21-11 and had a 7-4 advantage in corner kicks.
Athens 12, Towanda 0
Athens scored 10 first period goals en route to a 12-0 shutout of the Lady Black Knights. The Lady Wildcats' Rachel Hutchison had a hat trick and an assist, Morgan Ferguson had a goal and 3 assists, Abby Sindoni and Abby Segar had two goals each, Emma Roe had a goal and two assists, and Krysta Manning, Ariana Gambrell and Emma Adams all had goals.
Sayre 5, Wyalusing 2
The Lady Redskins scored 3 first period goals en route to an NTL victory over the Lady Rams Wednesday. Madisyn Wheeler recorded a hat trick while Kirsten Covey and Stephanie Klovekorn added the other two goals. Klovekorn and Abby Moliski also recorded assists.
Madison Armitage and Hailey Jayne scored Wyalusing goals.
Sayre's Blair Wampole recorded 10 saves in goal, while Madalyn Valoroso made 11 saves for Wyalusing.