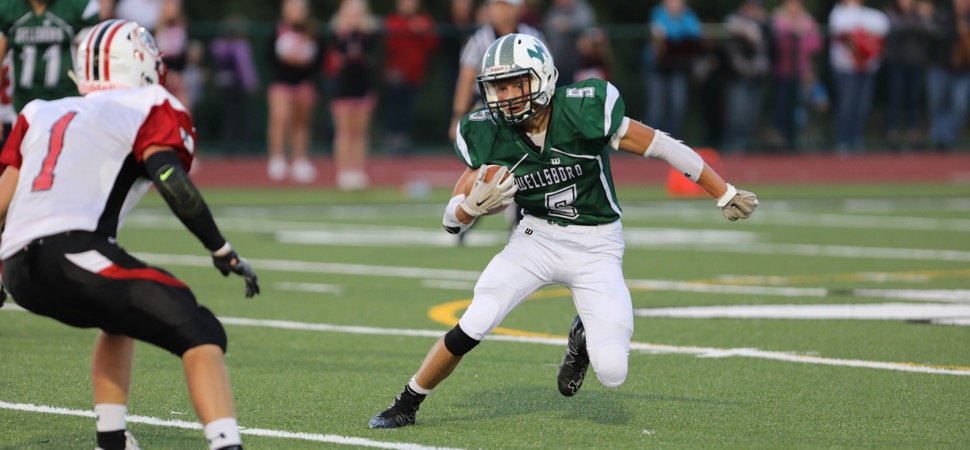 Towanda pulls off comeback, Wellsboro rolls past Canton
By: Ed Weaver | NTL Sports | August 26, 2017 | Photo courtesy Dr. Robert Bair
Towanda pulled off a come-from-behind 28-21 victory over Mahanoy Area on Friday, August 26.
Mahanoy scored 14 first-half points and jumped out to an early lead to go on top of Towanda. Just over two minutes into the contest, Mahanoy's Matthew Lewandowski broke a 44-yard run to paydirt to make it 7-0 then, with under a minute remaining in the half, threw 22-yard touchdown to Danny Lawrence.
That's when Towanda said enough was enough.
The Black Knights scored on their opening drive as Zane Neubert punched the ball in from six yards out, after three earlier carries for 47 yards, to cut the lead to 14-6. Towanda then tied it at 14-14 after a Luke Tama interception and a Tanner Kunkle to Isaac Pelka 17-yard touchdown and two-point conversion.
Mahanoy broke the tie on their next drive, only to be answered by a 78-yard touchdown by Neubert to tie it back at 21-21. Neubert later scored the game-winner.
Neubert ran for 283 yards on 19 carries with three scores and Jyshaire Robinson ran for 14 yards. Kunkle was 7-for-13 for 54 yards passing and Pelka had three grabs for 25 yards, while Tama had two catches for 10 yards, and Dalton Potter and Hartmann had catches.
Wellsboro 64, Canton 12
The Green Hornets put up 555 yards of total offense in the lopsided win to open the new Wellsboro Community Athletic Complex.
Canton jumped out to an early 6-0 lead after Levi Gaiotti intercepted a Quinn Henry pass and returned it 89 yards down the to one and Michael Smithers rushed a play later for the score. The lead would be short-lived as Wellsboro scored 45 unanswered points in the first half. Henry rushed for four touchdowns, threw for two to Dalton Prough and the Wellsboro defense recorded a safety.
In the second half, following an 80-yard run by Smithers, Wellsboro scored three more times on runs by Chase Moser, Clayton Orsborn, and Connor Ramsey.
Henry rushed for 78 yards and 4 touchdowns on 8 carries and was 7-for-11 passing for 200 yards and 2 scores. Moser rushed for 74 yards on 12 carries and Alex Kozuhowski had 64 yards on 3 attempts. Prough caught 2 passes, both for touchdowns, for 86 yards, and Kozuhowski hauled in 2 passes for 54 yards.
North Penn-Mansfield 14, Northwest Area 10
The Panthers rallied and won a defensive battle over District II Northwest Area. Despite an early touchdown by the Rangers, the Panthers tied the game up at 7-7 as Panther QB Brent Burleigh connected with Dylan Wesneski for a 59-yard score as time expired in the first quarter. The Panthers took the lead for good later in the second as Burleigh threw his second touchdown pass of the night, this time a 20-yarder to Nick Kasper, to put the Panthers up 14-7.
The Rangers added a field goal later in the half to make it 14-10. The score stayed that way the rest of the game as neither team was able to convert red zone opportunities.
Bald Eagle 33, Troy 13
The Trojans dropped their 2017 season opener. The Eagles jumped out to a 13-0 lead in the first half, but Troy rebounded and would tie the game. Clark Jackson cut the Eagles' lead to 13-6 on a 24-yard scoring run, then Nate Martin scored from three yards to tie up the game after the Trojan defense forced a fumble.
That would be "all she wrote" for Troy as Bald Eagle scored three more times on the night.
Jackson led the Trojans with 57 yards on 11 carries with one score, while Nate Martin added 40 yards and a touchdown.
Athens 46, Cowanesque Valley 0
Zach Jayne scored five first-half rushing touchdowns as Athens handled CV in the season opener for both teams.
Jayne rushed for 106 yards on just 11 carries and Damian Hudson collected 159 yards and one TD on 14 carries. The Wildcats ran for 297 yards on 39 carries.
Kaden Rude completed 7-of-9 pass attempts for 113 yards, completing passes to six different receivers. Matt Robbins hauled in two receptions for 37 yards to lead the Wildcats.
CV rushed for just 17 yards on 23 carries, led by Matt Barber, who had 16 yards on six carries.
CV QB Seth Huyler completed 8-of-19 pass attempts for 77 yards, but was intercepted twice.
Wyalusing 27, Sayre 6
The Rams and first-year head coach Jordan Clark picked up their first win of 2017 by putting up 362 yards of total offense on the Redskins. The Rams' Carl Gowin scored three times on the night. His first score came with 7:30 left in the opening quarter on a 4-yard run, then he followed it up from two yards out three minutes later to make it 14-0 Wyalusing. Gowin's final touchdown came on a 67-yard burst in the third quarter to make it 20-0.
Sayre snapped the shutout with 8:56 remaining in the game as Ethan Miller caught a 46-yard pass from Corbin Brown. Wyalusing then added one final score with 3:24 remaining as Jon Morrison recovered a fumble in the end zone.
Austin Arnett led Sayre with 22 yards on 10 carries, and freshman Elmer Stevens gained 19 yards on three carries. The Redskins gained just 37 yards on 27 attempts as a team.
Garrity completed 1-of-10 pass attempts for 13 yards in the first half. Gage Carnrike led Sayre with three catches for 33 yards.
Gowin led the Rams with 139 yards and three TDs on 17 carries, and Calvin Burke added 42 yards and one TD on 11 carries. Burke also completed 13 of 23 pass attempts for 150 yards, with Jon Morrison hauling in five catches for 42 yards, and Martin collecting three receptions for 53 yards.