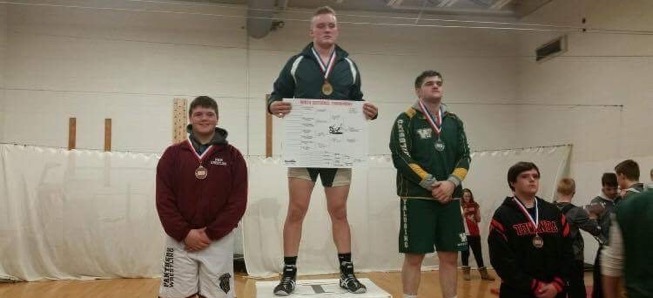 Smith named to NTL All-Star team
By: Ed Weaver | NTL Sports | March 14, 2017
Senior Kaleb Smith was named to the NTL All-Star wrestling team on Tuesday, March 14.
Smith was a co-first team selection at the 220 lb. weight class with Wyalusing's Cody Tunnicliff. After only competing in one match last season, which he won, Smith led the Hornets with a 22-6 record and was 12-2 to close the year out. Smith also won the North Section tournament from the #3 seed, beating Tunnicliff in the final.
Smith finished with a record of 45-30 during his career.
"It took a lot of hard work and a lot of extra time spent practicing and I couldn't have done it without the rest of my team, Smith said. "It felt good to end a great senior season with a sectional championship under my belt."
Head coach Scott Ingerick was very proud of Smith.
"Kaleb had a phenomenal year and was the leader of our team from day one," Ingerick said. "Kaleb was our first sectional champion in a long time and really put the time in this year to achieve what he did. We're going to miss him next year for sure, but we all wish him the best with joining the Marine Corps after graduation."
WellsboroAthletics.com would like to congratulate Kaleb on his All-Star selection, and thank him for all the hard work and dedication he's given the wrestling program during his career.
View the complete 2016 NTL Wrestling All-Star team.