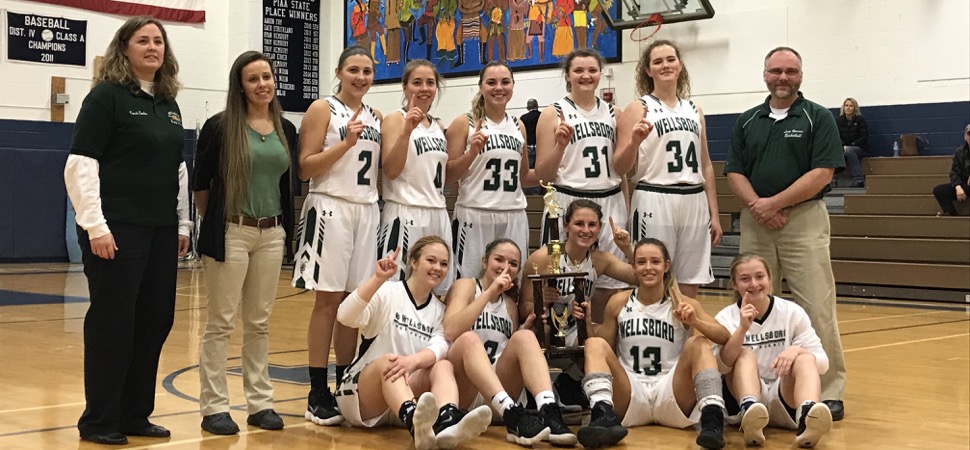 Poirier buzzer-beater lifts Lady Hornets over Northwest Area
By: Ed Weaver | NTL Sports | December 10, 2017
Senior Lizzie Poirier hit a buzzer-beater for a 57-55 win over Northwest Area in the Muncy Rotary Tournament championship game on Saturday, December 9.
"What a crazy game! After being down the entire game, it felt amazing to pull out the win," Poirier said. "There was about 10 seconds left and Tory gave me a great pass to win the game. As a team, we never gave up even when things weren't going our way. It was a great team effort tonight."
Northwest Area got off to a fast start and put up 20 points and took an 8 point lead. Northwest outscored Wellsboro 10-7 in the second to take a 30-19 lead into halftime.
The third is when the Lady Hornets started chipping away at the Lady Rangers lead.
Wellsboro put up 20 points in the quarter as senior Tory Self caught fire. Self scored 10 points in the quarter while Poirier and sister, junior Emma Poirier, each scored 5 for the remaining 10. After the third ended the Lady Hornets trailed 47-39.
The fourth is when the Lady Hornets really shined as they went on an 18-8 run. Self scored 6 in the quarter, Emma Poirier and sophomore Cathryn Brought each had 2 and Lizzie Poirier had six. Wellsboro had the final shot with Poirier draining the game-winner off an assist from Self.
"I was concerned coming in because of matchup problems," said head coach John Davis. "They were a good challenge, bigger and more physical then we were and had good guard play."
While Wellsboro trailed by double-digits at points in the half, Davis kept preaching defense.
"At halftime we just said we needed to pick it up on the defensive end and the offense will start to turn," Davis said.
Lizzie Poirier finished with a team-high 23 and went a perfect 6-for-6 at the foul line. Self backed Poirier up with 21 points, 16 of which came in the second half. Emma Poirier finished with 9 and Brought and senior Rachael Tuttle pitched in with 2 points each.
Tuttle grabbed 17 rebounds, Brought had 9, Self had 7 and Lizzie Poirier finished with 5. Self also added 4 assists and 4 steals.
Self and Lizzie Poirier were also named to the All-Tournament team and Poirier was the Tournament MVP.
In the JV game Wellsboro lost to Shippensburg 33-7.
The win improves the Varsity team's record to 2-0 to start the year. The team will be back in action on Tuesday, December 12 at Coudersport.