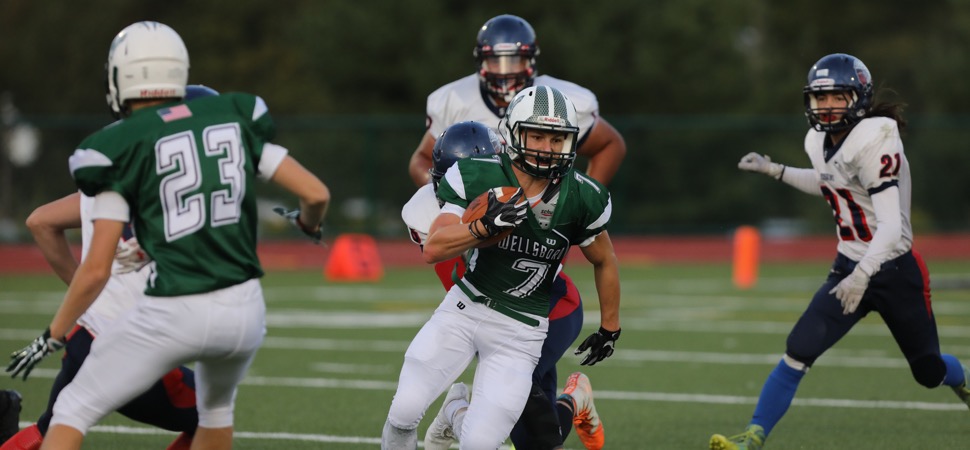 Moser's three touchdowns lead Hornets past Sayre
By: Ed Weaver | NTL Sports | September 2, 2017
The Wellsboro Green Hornet Football team improved to 2-0 on the season with a 48-14 win over Sayre on Friday, September 1.
Last week the Hornets had 555 yards of total offense. This week they managed just 357 yards (285 in the first half), mainly due to untimely penalties (12 for 120 yards) during big offensive plays.
"We executed well at times but then I think we lost focus a little bit," said head coach Matt Hildebrand (41-8). "We have some penalties that we have to clean up, personal fouls, things like that, things you can control. Those are things we need to clean up moving into next week because they'll catch up to you and you'll lose a game."
This game was however, a better start for the Hornets as they put up the game's first points. After a three-and-out by the Redskins on their opening drive, the Hornets' opening drive consisted of nine plays, highlighted by a 35-yard run by sophomore Aidan Hauser and 19-yarder by senior Quinn Henry before Hauser scored from four yards out with 5:43 left in the opening quarter. Senior Collin Pietropola's kick split the uprights and the Hornets led 7-0.
Not to be outdone by the offense, Wellsboro's defense again got in on the scoring. Last week a safety, this week a touchdown as senior Chase Moser stepped in front of a Corbin Brown pass and returned it 45 yards to the end zone. Pietropola's second kick of the night was good, and Wellsboro was up 14-0 with 4:04 left.
Wellsboro's scoring machine accounted for four more scores in the first half, while the defense did their part and held the Redskins to -42 yards of total offense.
Hauser scored his second touchdown of the evening from a yard out with 1:42 remaining and a two-point conversion from Henry to senior Dalton Prough made it 22-0. Three plays later a 29 yard pass from Henry to Prough 28-0 to start the second quarter, then a 49-yard run by Henry made it 35-0 following freshman Zach Singer's extra point with 8:41 remaining in the first half.
Wellsboro scored once more before the first half expired as Moser, this time on the offensive side of the ball, broke a 65-yard run down the Sayre sideline 2:13 remaining to push the score to 42-0 in favor of the Hornets.
Moser would pick up where he left off to start the third quarter as the senior running back broke off another long run, this time for 45 yards, before being tackled at the one. Moser capped the drive a play later for his second rushing touchdown, and third of the night, to make it 48-0.
From that point on, Wellsboro's second stringers got playing time, but unlike last week, they struggled to move the ball on their three drives.
That's when the Redskins capitalized on offense.
Aided by two personal fouls, the Redskins put their first points up on the scoreboard as Brown and Gage Carnike connected on a 12-yard pass with 4:05 left in the third to make it 48-12. Later in the fourth, Brown threw his second touchdown pass, this time to Connor Harbst, from 26 yards out for the game's final points.
Henry was 4-for-5 through the air for 58 yards and the touchdown to Prough and also rushed for 112 yards and a score on 6 carries. Moser led the Hornets' ground game with 114 yards and two scores on 5 carries while Hauser finished with 59 yards and two scores on 7 rushes. Prough caught two passes for 32 yards and a score, Hauser caught 2 for 26, and junior Michael McNair and sophomore Alex Burrell each caught passes.
Henry also added a 46-yard punt return on special teams.
"We tried a few different things and a few different looks and get reps on things in the first half," Hildebrand said of his offensive plan of attack. "I was pleased and we scored in many different ways, not just offense but our defense put points on the board. We had some young guys come in and kick for us tonight that have never done it before. It makes us a hard team to defend."
Defensively, junior Hunter Brown had 10 tackles, junior Robert Brown recorded 6 tackles, and sophomore Zach Florio recorded 4 tackles and 2 sacks, giving him 5 sacks on the year.
Wellsboro held Sayre to 116 yards of total offense. Brown finished 12-for-25 for 155 yards passing, Austin Arnett led the way on the ground with 12 yards on 7 carries, but the team rushed for -39 yards as a whole. Dominik Mazzarese finished with 4 catches for 99 yards.
"Our defense just swarmed to the ball the entire night," Hildebrand continued. "Mike Pietropola does a great job every week getting the guys ready for games. The guys play with emotion and execute every week."
Next week the Hornets host Athens (2-0), 26-12 winners over North Penn-Mansfield, in a battle of two unbeaten teams.
"I'm looking forward to it," concluded Hildebrand. "I think our guys will be ready. It's always a tough game when Athens comes to town but I think the guys will be pretty pumped up for next Friday."