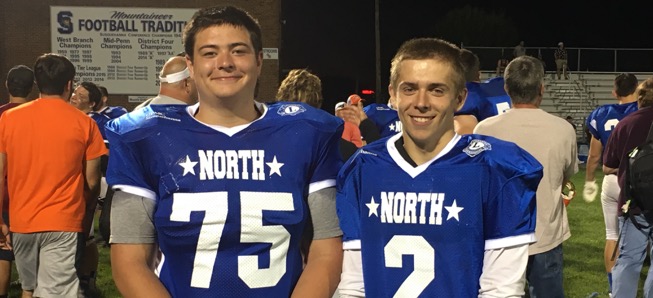 Lamphier, Nichols end careers at 27th Annual All-Star game
By: Ed Weaver | NTL Sports | June 25, 2017
Seniors Brandon Lamphier and Ethan Nichols finished their high school football careers at the 27th annual District IV North-South All-Star football game on Saturday, June 24.
Nichols helped the North offense rack up over 400 yards of total offense while Lamphier caught a pass for 32 yards to help setup a North touchdown. The North defeated the South 37-29 to win their third straight game.
The North squad jumped out to a 10-0 lead in the first quarter as Williamsport's Isaiah Hankins and Elliott Walker torched the South defense for a 74 yard score and Montoursville's Ethan Lazorka drilled a 29 yard field goal. After Lamphier's 32-yard catch to put the North in scoring position, Sayre's Tylor Belles punched the ball in from a yard out to put the North up 17-0.
The South scored their first point's with 3:16 left in the first half on an 80 passing play from Southern Columbia teammates Cam Young to Hunter Thomas. The duo accounted for 405 of the South's 414 yards of total offense and all four scores.
Walker scored twice more on the night, once before the first half ended and once with 6:27 left in the third quarter, to put the North team up 30-7. Thomas scored the South's third quarter touchdown to make it 30-14 and Young scored the remaining two touchdowns, both on the ground, to cut it to 37-29 before the North ran out the clock for the win.
For both Nichols and Lamphier, Friday's game was the final game of their tremendous careers in Green and White. Both were freshman during Wellsboro's resurrection in 2013 with the school's first-ever true undefeated regular season, then won the school's first-ever District IV championship as juniors in 2015, and finished their senior seasons with another undefeated regular season and 39 total wins, the most by any Wellsboro senior class.
"It was a lot of fun," Lamphier said of strapping the pads on one last time. "It's an amazing feeling because you're going against all the guys you play against in the regular season and you didn't know you could establish team chemistry with them. It was a real neat opportunity."
Nichols echoed Lamphier's comments.
"It was really cool to get to know the others you've been playing against for four years," Nichols said. "It was really nice to suit up one final time and get the win. I'm glad I had the opportunity to do this."
WellsboroFootball.com would like to congratulate the North squad on their win and would like to congratulate Ethan and Brandon on a great game and great careers at Wellsboro.
View the 27th Annual All-Star game stats and read the game recap by Chris Masse of the Williamsport-Sun Gazette.