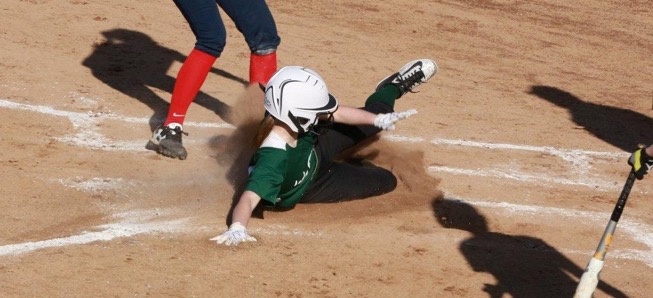 Lady Hornets shutout Sayre, 6-0
By: Ed Weaver | NTL Sports | April 18, 2017
A four run sixth inning propelled the Wellsboro Varsity Softball team to a 6-0 shutout win over Sayre on Monday, April 17.
After a slow start in the first three innings, where the Lady Hornets stranded four baserunners, the bats finally woke up in the fourth inning. Junior Brianne Keane led off with a single past the third baseman. A sacrifice bunt by sophomore Hailey Neal moved Keane to second then a sacrifice fly by sophomore Heidi Zuchowski moved Keane to third. Keane eventually scored to make it 1-0 after the fourth.
Wellsboro added another run in the bottom of the fifth. Sophomore Tiana Lecker reached on error to lead off the inning, then with freshman Emma Rachiele pinch running, junior Sydney Tremper doubled to center to score Rachiele after junior Alyssa Yungwirth moved her to third the previous at bat.
The Lady Hornets put the game away in the bottom of the sixth with four runs. Neal led off with a single to center field and freshman Rileigh Gerges singled past third to put two on for Lecker. Lecker laid down a sacrifice bunt to score Neal, but an error on the throw allowed Gerges to score to make it 4-0 with Lecker on third. Lecker eventually scored on a passed ball during freshman Ryann Adams' at bat. Adams would draw a walk to reach base and would score as Tremper singled to center to make it 6-0.
"Tonight's win was important for the girls," said head coach Ron Brought. "After a week of high scoring games it was good to see them find a way to win when the bats were quiet in the early innings. The girls kept grinding until they were able to string together multiple hits."
Tremper was 2-for-4 with a double and an RBI, Yungwirth was 1-for-4 with a triple, Keane was 1-for-4, Gerges was 1-for-1, and Clymer was 1-for-3. Lecker was 0-2 with 2 RBI's.
Freshman Cathryn Brought pitched a complete game for the Lady Hornets and earned her first career Varsity win. Brought scattered two hits on 100 pitches and struck out six. She also went 2-for-4 from the plate on the afternoon.
"It was a big night for Cathryn Brought to throw 7 shutout innings," Brought continued. "The more innings she can throw will be key to our success down the road. Having a No. 2 pitcher who can give you a quality complete game is a huge asset to our team. We need to take the momentum from the last 3 innings of tonight's game into tomorrow when we face Liberty."
The win improves the Lady Hornets to 4-1 (4-1 NTL Large School Division). The team will be back in action this afternoon against rival North Penn-Liberty.