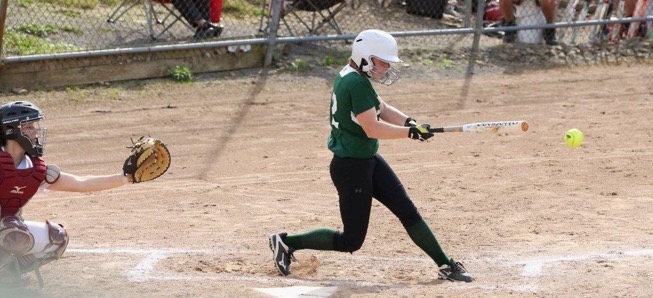 Lady Hornets shutout Bloomsburg in District IV quarters
By: Ed Weaver | NTL Sports | May 24, 2017
The Wellsboro Varsity Softball team picked up a 4-0 shutout win over #7 Bloomsburg in the first round of District IV Class AAA playoffs on Tuesday, May 23.
The #2 Lady Hornets scored an early run in the bottom of the first. Junior Alyssa Yungwirth led off with a single up the middle of the infield. Another single, this time by freshman Cathryn Brought, scored Yungwirth to make it 1-0.
From that point on it was a pitching duel by Yungwirth and Bloomsburg's Brianna Benscoter.
Yungwirth recorded five strikeouts through the first three innings while Benscoter struck out three in the same time frame. After the first, both teams combined for just four hits until Wellsboro broke the game open in the bottom of the fifth.
Junior Kailee Clymer started the bottom of the fifth with a bunt to try and reach base, but was thrown out. After sophomore Heidi Zuchowski grounded out to second, freshman Ryann Adams singled to put a runner on board for Yungwirth. Yungwirth's following at bat was short-lived as she drove a home run to left field to score both her and Adams to make it 3-0.
"I didn't think it was going over," Yungwirth said.
The Lady Hornets scored the game's final run in the sixth. Sophomore Hailey Neal singled to center field to lead off the inning. A sacrifice bunt by freshman Lauren Singer moved Neal to second, then Clymer reached on an error to score Neal to make it 4-0. Yungwirth then retired the next three out of four batters to finish the game.
Brought was 2-for-3 with an RBI from the plate and Yungwirth was 2-for-4 with a home run and 2 RBI's. Clymer, Neal, Adams, Zuchowski, and junior Brianne Keane contributed the rest of the Lady Hornets' nine hits.
Yungwirth's performance at the plate set a new Wellsboro Softball record* for hits in a single season. Yungwirth came in tied with Makenzi McNett with 35 hits, but now holds the record for 37. Yungwirth went the distance on the mound, scattering 4 hits over 7 innings with a walk and 14 strikeouts for her 16th win of the season and 36th of her career, also a new school record.
"We're tough to beat when she (Alyssa) is on," said head coach Ron Brought. "We're a really good team with our pitching staff but when Alyssa is throwing strikes like she was today we are one of the top teams in the district."
Next up for the Lady Hornets is a third game with rival North Penn-Liberty, 14-9 winners of Loyalsock. Wellsboro swept the regular season series with North Penn-Liberty.
"We've had two solid outings against Liberty and we've come out victorious both times," continued Brought. "I have no reason to believe that the outcome won't be the same."
Wellsboro improves to 18-2 and takes on North Penn-Liberty on Thursday, May 25 at the Mosser Complex in Turbotville.
* - Records may not be accurate to date due to incomplete stats. If you know of a record not currently listed on this page, or have game statistics or film from previous years, please contact us.