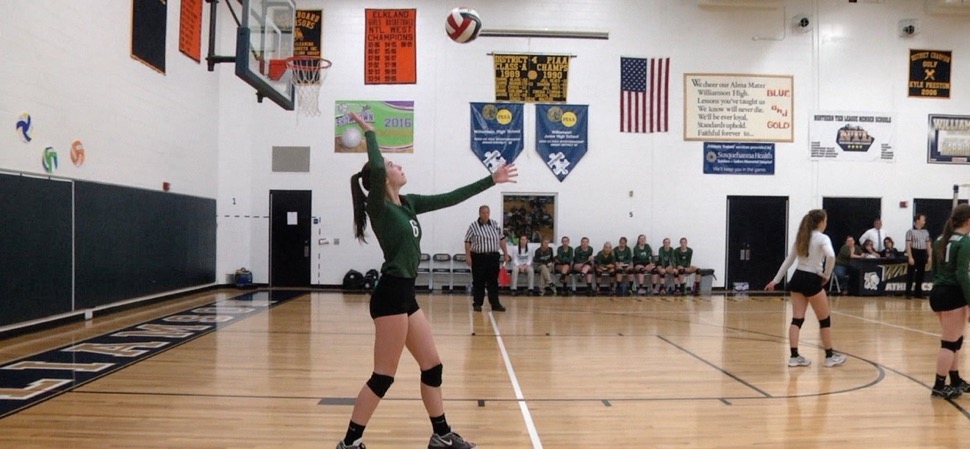 Lady Hornets fall to North Penn-Liberty in District 4 volleyball championship
By: Ed Weaver | NTL Sports | November 3, 2017
The Wellsboro Volleyball team's season came to an end against rival North Penn-Liberty in the District IV Class AA championship game on Thursday, November 2.
"I thought my girls played very well. They left everything on the court," said head coach Sharon Zuchowski. "We came up short in the serving game though, but they really gave me their all tonight."
Wellsboro entered the game as the underdogs to undefeated North Penn-Liberty and the Lady Mounties undefeated 19-0 record. After meeting twice during the regular season, with Liberty winning both matches a combined 6 sets to 1, Thursday's match was one for the ages as it took five sets to decide a winner.
The first set was even early on with both teams trading the lead. After a Brooke Harvey kill tied it up at 6-6 for Liberty, the Lady Mounties never allowed the Lady Hornets to back within a point. Liberty took the set 25-17.
The second set belonged to the Lady Hornets. After trailing 11-7, Wellsboro went on a 10-4 run to take the lead at 17-15. 4 straight points by Liberty put them back on top 19-17, but a block on Harvey and another Wellsboro point tied it back up. After another tie back at 22-22, Wellsboro rattled off 3 straight points to win the set, 25-22.
With the momentum on their side the Lady Hornets jumped out to a 5-1 lead to start the third set. The Lady Mounties kept fighting and chipping away to take the lead at 16-15. After a lot of back-and-forth points and with Wellsboro leading 22-20, back-to-back put backs at the net swung the momentum in Liberty's favor. Liberty went on a 5-1 run to close out the third set, 25-23 to go back on top, 2-1 overall.
The fourth set was neck and neck as neither team led by more than a point until Wellsboro pulled out a 16-12 lead on a Caitlyn Callahan ace, forcing Liberty to call a timeout to regroup. The Lady Hornets maintained their 4 point lead and ran the score to 20-16 until a Charisma Grega kill and a block on Callahan got Liberty back to within a point at 20-19. Wellsboro regained the lead at 22-21, then closed out the set as Callahan had 2 kills in the final 3 points giving Wellsboro the win and tying it back up at 2-2.
The fifth set, however, was when Liberty displayed why they are undefeated and only dropped 3 sets the entire year before the game. Grega dominated the net during the set as she racked up 4 kills in Liberty's 7 points to take a commanding 7-1 lead. A Callahan block got Wellsboro within 5, but Liberty went on a 5-1 run to make it 12-3. Wellsboro managed to score 2 more points to keep the game alive, but a kill by Maddison Minyo, a push by Joanne McNamara got Liberty to match point before Wellsboro was unable to return McNamara's final serve.
"In this game momentum is a big thing, once you start losing it and the slide starts it's really hard to get it back sometimes," Zuchowski said of the fifth set.
Callahan led the Lady Hornets with a career-high 20 kills, 7 points, 1 ace, and 7 blocks; senior Brianne Keane had 42 assists, 10 points, and an ace; senior Cheyenne Sherman had 9 digs, 9 points, 2 aces, and 8 kills; sophomore Megan Starkweather had 9 kills and senior Hannah Burnett recorded 15 digs.
The loss ends Wellsboro's season at 19-5 (12-3 NTL Large School Division) and District IV Class AA runners-up.