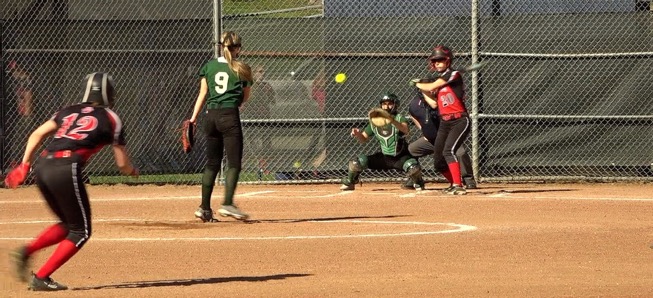 Lady Hornets edge North Penn-Liberty, 9-6
By: Ed Weaver | NTL Sports | April 19, 2017
The Wellsboro Softball team scored seven runs in the third inning and hung on to beat rival North Penn-Liberty on Tuesday, April 18.
The Lady Mounties scored two runs in the bottom of the first to jump out to an early lead. Brooke Harvey led off the inning with a walk and Carmen Bates singled to put runners into scoring position for Savanah Doney, who doubled to left field to score both Harvey and Bates.
After a scoreless 2nd inning, Wellsboro's offense exploded for 7 runs in the top of the third. Freshman Ryann Adams led off with a single to left field, junior Alyssa Yungwirth hit into a fielder's choice and Sydney Tremper singled to put runners into scoring position. Freshman Cathryn Brought popped up to the shortstop, but the fly ball was mishandled, allowing Yungwirth to score. Wellsboro took a 3-2 lead on a junior Brianne Keane double, scoring Tremper and Brought. Junior Kailee Clymer singled to left to score Keane, a single by sophomore Tiana Lecker scored sophomore Hailey Neal, Adams snuck a grounder past short to score Clymer, and an infield hit by Yungwirth scored Lecker to make it 7-2 Wellsboro.
Liberty battled back in the bottom half of the inning as Doney singled up the middle of the infield, Smith drew a walk, and Mariah Kshir singled, scoring Doney to make it 7-3. A Jillian Berguson sacrifice fly scored Smith to make it 7-4 Wellsboro before the Lady Hornets got out of the inning.
Wellsboro failed to score in the top of the fourth, and Liberty took advantage of it and added another run. Harvey singled to lead off the inning and later scored to make it 7-5 on a single by Mackenzie Heater. Yungwirth got Wellsboro out of the inning by striking out Smith and forcing Kshir to fly out to sophomore Heidi Zuchowski.
The score remained 7-5 until the top of the seventh when the Lady Hornets added two runs to pad their lead. Clymer had a base hit to short to lead off, but Lecker hit into a fielder's choice with Clymer being tagged out at second. Adams struck out at the following at bat, but Berguson was unable to hang onto the third strike. Adams beat the throw to first and advanced Lecker over to third. Yungwirth drove in Wellsboro's final two runs as she reached on error when two of Liberty's outfielders collided while going for a ball, scoring both Lecker and Adams to make it 9-5.
Liberty had one final chance to mount a comeback in the bottom of the seventh. Smith started the inning off with a triple to center field. Kshir doubled to center to score Smith to make the score 9-6, but that's all the runs the Lady Mounties would score. Yungwirth struck out Berguson in the next at bat, Ryley Kotulka popped up to second, and Emma Williams' hit was caught by Lecker in left field to end the game.
Yungwirth and Doney both pitched complete games. Yungwirth struck out 11 of 36 batters, walked three, and gave up 10 hits for her fourth win of the season and 24th of her career. Doney struck out five, walked two, and gave up 11 hits in the loss.
For Wellsboro, Adams, Tremper, and Yungiwrth were all 2-for-5 at the plate, Clymer was 2-for-4, Lecker and Neal were 1-for-4, and Keane was 1-for-2.
For Liberty, Harvey, Doney, and Bates were all 2-for-4, Kshir was 1-for-4, and Heater was 1-for-1.
"Most games you'd think seven runs would be enough but Liberty played a great game tonight," said head coach Ron Brought. "They didn't stop fighting. They kept getting key hits and we really struggled with the top of their lineup. They did a great job and our girls did as well and got runs when we needed it."
"It was a tough loss. Wellsboro is a great team," said Liberty head coach Lynn Grinnell. "We knew coming in that we were both tied for the league championship right now. With these types of teams, you can't make the mistakes against a good team and that's what cost us tonight. A lot of mistakes. We get one, possibly two more shots at them."
The win improves the Lady Hornets to 5-1 overall and drops Liberty to 4-2. The Lady Hornets will be in action on Thursday, April 20 at Wyalusing.