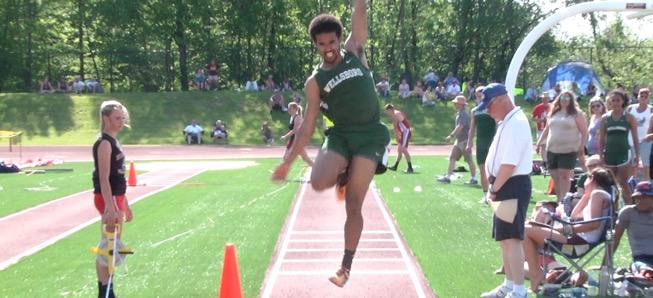 Hosey qualifies for State Championships
By: Ed Weaver | NTL Sports | May 19, 2017
Senior Dupree Hosey qualified for the PIAA State Track & Field Championships in the long jump on Thursday, May 18 at Williamsport Area High School.
Hosey took 2nd in his only event of Day 1 with a jump of 21-ft, 7-in. Hosey initially jumped 21-ft, 3-in in his flight, then hit his mark with his last jump of the finals.
"It's one of the best feeling in sports that I've ever felt," the senior said. "I just... so much work to get here and I'm just so happy."
Six other Hornets competed on the afternoon. Senior Brandon Lamphier finished 7th in the long jump at 20-ft, 1.5-in, senior Samantha Spurgeon (92-ft, 1-in) was 20th in the javelin, sophomore Dahlia Hosey (16-ft, 7.25-in) was 5th in the long jump, freshman Caitlyn Callahan (13.88) was 21st in the 100m prelims, sophomore Elizabeth Macias (13:51.39) was 20th in the 3200m run, and junior Wyatt Dean (24.22) was 21st in the 200m prelims.
The Hornets will be back at Williamsport for Day 2 of the District IV Championships on Saturday, May 20 starting at 10:00 a.m.