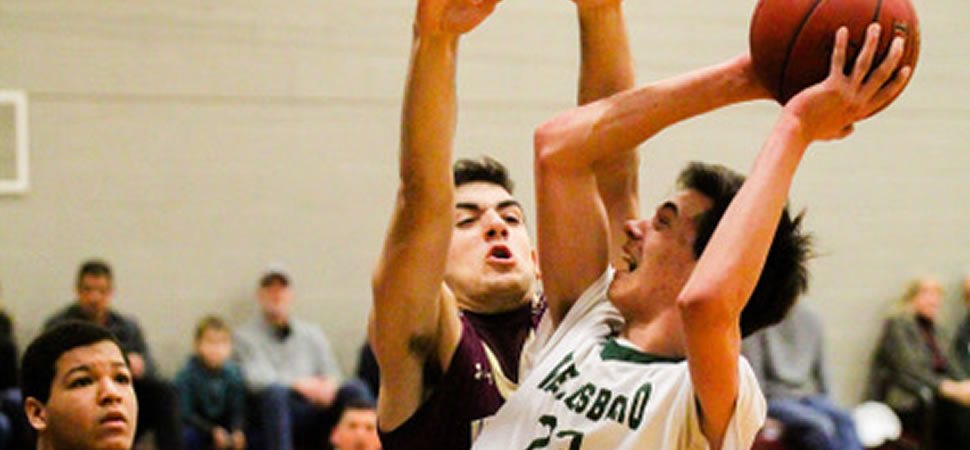 Hornets weather slow start to top Whitehall
By: Ed Weaver | NTL Sports | December 9, 2017 | Photo courtesy Joe Carreon
The Wellsboro Varsity Boys Basketball team overcame a slow start to top 5-A Whitehall in the first game of the Loyalsock Tip-Off Tournament on Friday, December 8.
The Hornets trailed 12-0 midway through the opening frame but cut the lead to 12-6 to close out the quarter. Both teams scored 17 points in the second as Whitehall remained in front 29-23 at the half, but Wellsboro eventually surpassed them in the third.
After 8 points by junior Brandyn Tuttle in the second quarter, senior Nic Ingerick came alive, scoring all 11 of his points, and helped the Hornets overtake Whitehall with a 23-6 run in the quarter. Wellsboro led 46-35 after heading into the fourth and kept rolling. Whitehall scored 15 points to Wellsboro's 16, but it was to little, to late as Wellsboro won 62-50 to earn a birth in Saturday night's championship game.
"The kids shot the ball really well and we believe in our defense and tempo of play," said head coach Todd Outman. "It was nice for the kids, they don't have a quit attitude and it's awesome. They will never give up, a lot of the kids played on the football team that have been successful over the years and they just have that 'never die' attitude. They believe that they can accomplish anything and it carries them a long way."
Tuttle had a double-double with 21 points and 15 rebounds as three Hornets scored in double figures.
"He (Tuttle) played a huge game for us. He completely dominated the boards and it was evident. I took him out early in the fourth and we started loosing the boards so we got him back in quick."
Senior Collin Pietropola finished with 14 points and 6 rebounds, and Ingerick added 3 steals to his 11 points. Senior Quinn Henry finished with 9 points and 4 assists, junior Andrew Brelo had 5 points and 5 assists, and junior Tanner Button pitched in 2 points.
Wellsboro takes on Loyalsock, 82-56 winners over North Penn-Mansfield, tonight at 7:30 p.m. for the tournament championship.