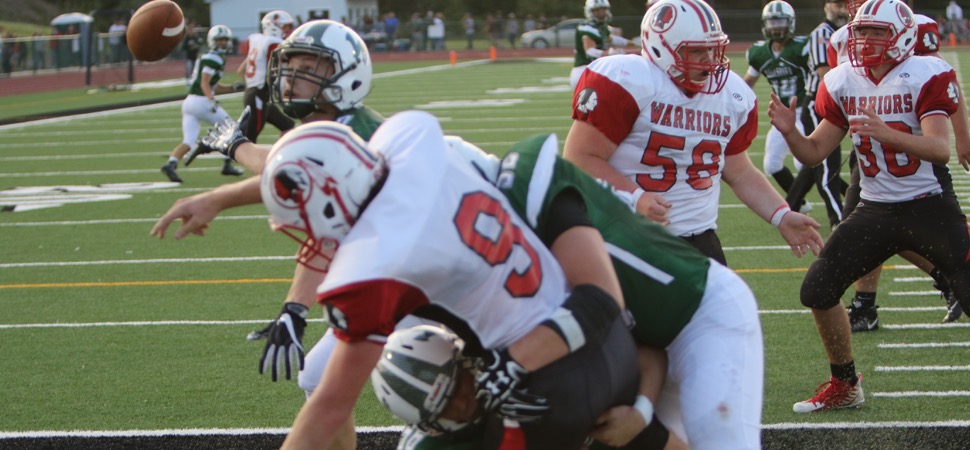 Hornets topple Canton at new Wellsboro Community Athletic Complex
By: Ed Weaver | NTL Sports | August 26, 2017
The Wellsboro Varsity Football team kicked off the 2017 season with a 64-12 win over Canton in the first game at the new Wellsboro Community Athletic Complex on Friday, August 25.
Despite an early touchdown by Canton's Michael Smithers from a yard out, setup by a Levi Gaiotti 89 yard interception, the Hornets dominated Canton on their new field, their first time playing in Wellsboro since the 2015 season.
From that point on the Hornets dominated every facet of the game, putting up over 500 yards of total offense to Canton's 96. On Wellsboro's ensuing drive, senior Alex Kozuhowski broke off a 42-yard run down to the Canton 20-yard line. Two plays later senior Quinn Henry scored from nine yards, for the first of six touchdowns, out to put the Hornets up 7-6 after senior Nic Ingerick's extra point.
"The guys were a little nerved up. There was a lot of pressure coming out here tonight with the new stadium," said Wellsboro head coach Matt Hildebrand. "I think they settled in midway through the first half and they performed great. We had some young guys step up tonight and saw some really good things from them as well so there are guys that are going to see more playing time as we go ahead in the future."
Canton's next drive started at the 20-yard line, but ended in a safety as Smithers was sacked and called for intentional grounding in the end zone to put Wellsboro up 9-6. The Hornets added a quick score after the safety as sophomore Aidan Hauser put the Hornets at the Canton 11-yard line after a 49-yard return on the free kick. Back-to-back runs by Hauser got the ball inside the Canton five-yard line where Henry finished the drive from four yards out to make it 16-6.
Canton lost yards on their next drive and were forced to punt. Henry fielded the punt and returned it inside the 30 then found senior Dalton Prough from 28 yards out to increase the lead to 23-6 with 22 seconds left in the opening quarter. The Hornets kept the scoring going into the second quarter as Henry broke loose on a 30-yard run with 9:12 remaining in the half.
Wellsboro scored twice more in the first half. With 4:14 remaining, Henry scored from a yard out to make it 38-6 then found Prough for the second time on the night from 58 yards out with 12 seconds left to put the Hornets up 45-6 at halftime.
The Warriors scored an early second-half touchdown as Smithers took advantage of a defensive miscommunication and took the ball 80 yards to the house for Canton's final touchdown of the night. The extra point missed and the Warriors trailed 45-12 with over 10 minutes left in the third.
With a running clock for the second half, the Hornets put together a 10-play drive lasting over six minutes that saw senior Chase Moser push the ball in from a yard out to increase the lead to 51-12. As the Hornets started subbing players, they still managed to score twice more. With 8:50 left in the game, sophomore Clayton Orsborn scored from a yard out after rushing for 23 yards on the drive to push the score to 58-12. Sophomore Connor Ramsey scored the game's final touchdown from 13 yards out with nice seconds left in the game.
Henry rushed for 78 yards and 4 touchdowns on 8 carries and was 7-for-11 passing for 200 yards and 2 scores. Moser rushed for 74 yards on 12 carries and Kozuhowski had 64 yards on 3 attempts. Prough caught 2 passes, both for touchdowns, for 86 yards, Kozuhowski hauled in 2 passes for 54 yards, and sophomore Silas Wagaman had a catch for 44 yards. Sophomore quarterback Karter Witmer was also 1-for-1 for 17 yards.
"Quinn was like a video game out there tonight," Hildebrand said of his senior quarterback. "As an offensive coordinatior he makes my job real easy. He can turn a bad play into a great play real quick. He's a special kid and we're fortunate to have him."
Hildebrand was also pleased on his offensive line play.
"It was one of the areas we had to focus on coming into the off-season. We lost key guys from last year's team and I think we had guys step up on both sides of the ball. We had a few guys come this year out that didn't play football last year and have stepped into some starting roles for us this year. I'm very pleased with them and am looking forward to the furture and getting better every week."
Defensively, sophomore Zach Florio had 4 tackles and 3 sacks and senior Collin Pietropola, Wagaman, and junior Hunter Brown all had 4 tackles. Pietropola and junior Robert Brown also had sacks.
Also, after the game, the Hornets rang the Todd Antoine Memorial Bell for the first time in five years. The bell collapsed on September 23, 2012 and was restored last week thanks to the help of Wellsboro's Class of 2013, the Wellsboro Maintenance Team, and Wellsboro Electric, the team restored its 30+ year tradition.
Next up for Wellsboro (1-0, 1-0 NTL Large School Division) are the Sayre Redskins, who lost 27-6 to Wyalusing. Kickoff will take place at 7:00 p.m. and will be Hall of Fame Night.