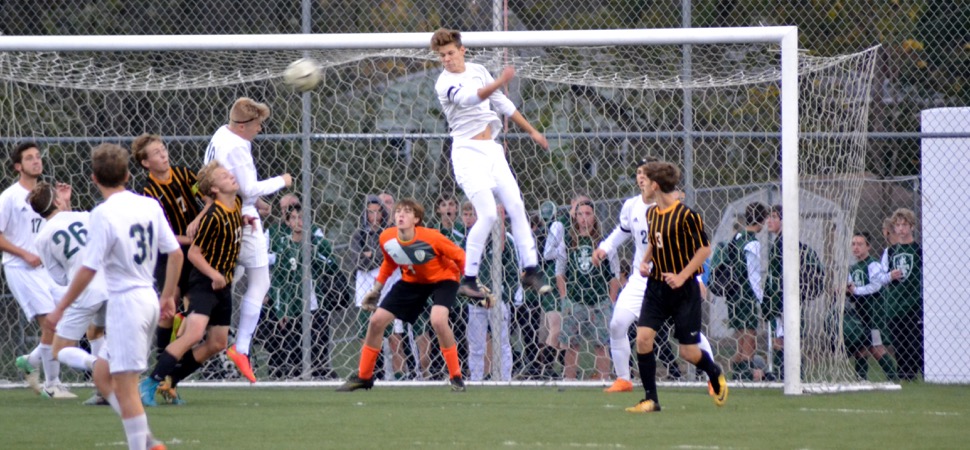 Hornets top Southern Columbia in District IV quarterfinals
By: Ed Weaver | NTL Sports | October 29, 2017
The Wellsboro Varsity Boys Soccer team opened the first round of the District IV playoffs with a 4-1 win over Southern Columbia on Saturday, October 28, 2017.
All five combined goals were scored in the first half.
Wellsboro scored the game's first 3 goals to put the Tigers away early. Junior Brett Rudy started things off on a goal with 33:29 remaining to put the Hornets up early. Rudy then assisted freshman Kaeden Mann to make it 2-0 with 25:35 remaining. A goal by senior Tanner Runyan, with an assist by senior Noah Fitch, put Wellsboro up 3-0 with 18:42 remaining before the Tigers' Gordon English scored to cut it to 3-1.
Wellsboro senior Johnny Rowland headed in a corner kick by senior Gabe Leach to put Wellsboro up for good, 4-1.
Both teams attempted 5 corner kick and the Hornets had 23 shots on goal. Junior Nate Redell made 3 saves in goal.
Next up for the Hornets (17-1-1) is a meeting with Benton, 3-1 winners over Meadowbrook Christian, at Loyalsock High School on Tuesday, October 31 at 8:00 p.m. in the District IV semi-finals.