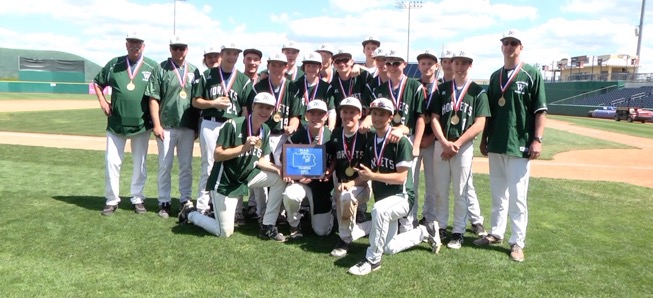 Hornets top South Williamsport to bring home first District Championship
By: Ed Weaver | NTL Sports | June 2, 2017
For the first time in school history the Wellsboro Varsity Baseball team won the District IV Class AA Championship.
Prior to this year, the Hornets have only appeared in two other District IV championship games, the most recent being in 2010 against Loyalsock and then all the way back in 1963 against Central Columbia. Since 2010, and prior to this year, the Hornets have only won one District IV playoff game in 2013. Now, the Hornets are champions after a 5-2 win over South Williamsport at Penn State University's Medlar Field on Thursday, June 1.
"It means a lot. I'm a Wellsboro alum so it means a lot," said head coach Philip Prough about the win. "Lot of good teams, and a lot of good players came long before this group. This is as much for them as it is us and I've treated it that way all along. I've always said it was their (the players) team, it might be my program, but it's their team. They've responded to that and it means a lot for the kids coming up so they know what winning is about. Success breeds success. We've had success the last several years knocking on the door. We always seemed to face a powerhouse team which made us better. We're at that point now and we're not going to looking back."
After a scoreless first inning, the Hornets' Johnny Rowland started the top of the second with a base hit to shallow left field. Sophomore Taynton Repard dropped a perfect bunt in the next at bat to move Rowland to third, after stealing second base earlier in the at bat, and beat out the throw to first. After a pop out by freshman Silas Wagaman, junior Dalton Prough drove in Rowland with a base hit through the middle of the Mountie defense to give the Hornets a 1-0 lead. Wellsboro tried adding another run in the inning, but Repard was thrown out at home on a base hit by sophomore Cam Tennis.
Wellsboro and South Williamsport both went three-up, three-down in the third inning, but the Hornets kept their second-inning momentum going in the fourth.
Rowland and Repard started the inning off with back-to-back base hits, and after a pitching change by the Mounties, Wagaman redeemed his first at bat by singling to right field to score Rowland from second. During the next at bat, Prough hit a sacrifice fly to right to score Repard to put Wellsboro up 3-0.
The Hornets held their 3-0 lead until they added to it in the top of the sixth. Rowland beat out a throw to first for his third hit of the game, and was advanced to second by another Repard sacrifice bunt. Junior Parker Mann reached on an throwing error to get on base, then Prough moved Rowland over to third on another sacrifice fly. This time Cam Tennis singled to center to score Rowland to make it 4-0.
After a 1-2-3 inning in the bottom of the sixth, the Hornets increased their lead in the top of the seventh. Junior Caleb Tennis was hit by a pitch to reach base and freshman Lucas Citrino came on as a courtesy runner. Junior Brent English drew a walk to move Citrino over to second, and later moved to third as Rowland grounded into a fielder's choice. Repard would hit into a fielder's choice, but as the Mounties tried to turn a double play, the ball got away from them, allowing Citrino to score to make it 5-0.
The game looked to be firm in Wellsboro's grasp as they entered the bottom of the seventh, but South Williamsport wasn't going down without a fight. Aaron Orgitano was hit by Rowland to start the inning, Aaron Hughes singled, and Pat West drew a walk to load the bases with one out. Luke Winner grounded out to freshman Carson Davis at first allowing Orgitano to score to make it 5-1. Hunter Finn connected on a Rowland pitch up the middle to score Hughes to make it 5-2, but Peter Sinibaldi fly out to Mann in left field to end the game.
When the year started, the Hornets were 3-0 after their first three games. Then they hit a wall with five straight losses. Things turned around the end of April with a 4-3 win over Sayre and a 12-0 win over Cowanesque Valley. The Hornets got within a game of .500 with wins over Wyalusing, North Penn-Mansfield, and Troy and won their final regular season game against Milton to get into the playoff hunt.
While the Hornets took their lumps early on in the season, it paid off later in the year.
"We had a pretty rocky start," Prough said. "We couldn't get on our field until mid-April, we went through a losing streak because we played a really hard schedule, and we knew we were battle tested. To see that all come together at the end and how the kids respond, to me it's really gratifying to see and I'm really happy for them."
Rowland led the Hornets at the plate, going 3-for-4 and scoring 3 runs, Cam Tennis and Repard were both 2-for-4 with an RBI, and Prough, Davis were all 1-for-4 and Wagaman was 1-for-2. Prough had 2 RBI's and Wagaman also drove in a run.
Rowland also had an excellent outing on the mound with a complete game. The Hornet ace allowed 2 runs (both earned) on 4 hits and a walk with 9 strikeouts for his 9th win of his career. Rowalnd was dominant on the mound as he allowed only one hit through 5 innings and 2 heading into the bottom of the seventh.
"He's been our #1 and has kept improving," Prough said of Rowland. "Behind the scenes you have to give coach Rob Brant credit. Coach Brant came on board with us as a pitching coach, has done a wonderful job, kids have responded, the result you see today in Johnny's execution. As far as hitting goes, Johnny has struggled most of the year until late. We've been working hard, he's been working hard putting extra reps in and you've seen it the last week and a half."
Next up for the Hornets (12-10) is a PIAA State playoff game against Old Forge. The Hornets will take on the Devils at Canton High School on Monday, June 5 at 4:30 p.m.