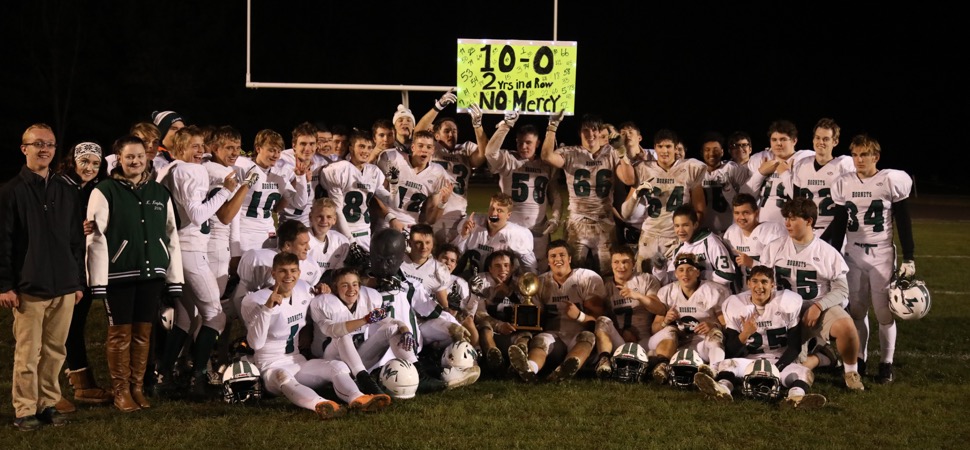 Hornets top North Penn, 36-7 to cap undefeated regular season
By: Ed Weaver | NTL Sports | October 28, 2017
When head coach Matt Hildebrand joined the football coaching staff in 2007, fresh out of Mansfield University, Wellsboro was coming off a 4-6 season and finished 5-5. A decade later, Hildebrand completed his third undefeated regular season in five years as head coach with a 36-7 win over rival North Penn-Mansfield on Friday, October 27.
The win was also the Hornets' sixth consecutive win in the Morton F. Jones Memorial Trophy game, and their 37th win overall since the rivalry started back in 1962.
Once Hildebrand took over as the head ball coach, the Hornets went from 5-5 in the regular season in 2012 to 10-0 in 2013. His second year they were 8-3. 2015 the Hornets won their first-ever District IV championship.
"It started way back when we took over. We had some kids that came through the program and had some rough times and they got sick and tired of losing and getting beat on," Hildebrand said. "They went to work and the kids we have now have stepped up and continued to work and hold that same work ethic and know what it takes to win and be a winner.
Last season Wellsboro had their second undefeated regular season under Hildebrand and won the team's second NTL title. Friday's win marks the third undefeated regular season in Hildebrand's five years, along with the team's third NTL title in five years, and is the programs' 49th win in that time span. The only other head coach in Wellsboro Football history to win 49 or more games was Russ Manney.
"It's almost like a drug, it gets addicting. They get a taste of it and don't want to let it go. Victories drive you to get in the weight room and do the off-season stuff, do the stuff that makes our program different right now. The younger guys that are coming up in the program see that and we have to keep it going."
After holding the Panthers to just three yards on their opening drive, the Hornets took over and marched down field eight plays. A 17-yard run by senior Quinn Henry and a 21-yard run by senior Chase Moser setup Wellsboro at the Panther 13 where Henry finished the drive a play later. Senior Nic Ingerick's extra point split the uprights and the Hornets led 7-0 midway through the first.
After another Panther three-and-out, a 45-yard run by Henry, giving him his third straight 1,000-yard season, again set the Hornets up at the Panther 13. However, this time, after a 7-yard run by Henry down to the six, the Hornets were stopped in their tracks and the Panthers took over at their own 5-yard line as the first quarter came to a close.
Again the Wellsboro defense forced a Panther three-and-out, and after a punt return by Moser down to the 20, the Hornets went back to work and scored their second touchdown of the first half. After runs by Henry and Moser, and passes to sophomores Aidan Hauser and Alex Burrell, Henry scored for the second time from three yards out. Wellsboro then went for two and Henry found Moser for the conversion, making it 15-0 with 8:30 left in the half.
North Penn-Mansfield answered Wellsboro on their next drive. After a false start penalty and a sack backed them up to their own-34 yard line, quarterback Brent Burleigh found Judson Wise on a short pass that Wise broke to the Panther sideline and carried it 66 yards for the score. Justin Kriner's extra point brought the score to 15-7 with 6:30 remaining.
The Hornets looked to add another score on their next drive as Henry hit a streaking Alex Kozuhowski down the Panther sideline for 50 yards down to the 9, but were then hit by the penalty bug. A false start, two holds, and a sack back the Hornets up to the 35 where they were unable to convert on fourth down.
After North Penn's fourth third-and-out of the half the Hornets tried it again before the end of the half. A 27-yard run by Hauser and steady runs by Henry and Moser again got the Hornets down to the Panther 9. Wellsboro managed to get to the 4, but a false start on third-and-goal backed Wellsboro up back to the 9. Henry got back down to the 5, but his fourth down pass attempt was incomplete as the half came to a close.
Once the second half started, however, the Hornets looked like a completely different team. Henry started the drive with a 13-yard run into Panther territory. Completions to Hauser and Moser eventually put the Hornets back at the Panther 9. This time, however, Henry finished the drive from 9 yards out for his third rushing touchdown of the night, pushing the score to 22-7 with 8:09 left on the clock.
"I thought North Penn did a good job, they had a game plan of slowing the game down and limiting our touches," Hildebrand said. "They didn't snap the ball until 5 or 6 seconds left on the play clock every time. They had a good game plan and it maybe took us off ours a little but we hurt ourselves in the red zone. We stopped ourself in the first half and we just had to correct those mistakes and not have the penalties. It's hard to call plays for fourth-and-35. We cleaned that up in the second half and did much better."
After Brendan Hill picked up an 18-yard gain to the Wellsboro 38 on first down, the Panthers failed to pick up another first down and were forced to punt. Wellsboro started from their own 6-yard line, but put together a 12-play drive that lasted the rest of the quarter.
Henry started off with a 13-yard pass to Burrell and followed it up with a 21-yard pass to Hauser. Wellsboro then rushed 8 straight times, with Henry picking up 19 and Moser 23 to get back into the red zone. A personal foul after Moser's run down to the 16 moved the ball to the 8 where Henry scored two plays later from a yard out with 9 seconds remaining to make it 30-7.
Wellsboro got the ball back quickly to start the fourth as Kozuhowski intercepted Burleigh. A facemask penalty on the return started the Hornets at their own 35-yard line, but a pass interference penalty on the Panthers put the ball back at midfield. Henry started with a 5 yard run, then hit Moser and Hauser on back-to-back passes and a 26-yard run got the Hornets down to the Panther 6. Henry then finished the drive from 3 yards out, but Ingerick's extra point was blocked.
Henry had a career night as he rushed for 241 yards and all 5 Hornet touchdowns on 35 carries, while throwing for 191 yards on 17-for-23 passing. Moser finished with 72 yards on 11 carries and Hauser had 51 yards on 12 attempts. Hauser caught 6 passes for 51 yards, Kozuhowski caught 3 balls for 88 yards, and Burrell finished with 18 yards on 3 grabs.
Defensively, junior Hunter Brown led Wellsboro with 7 tackles, senior Collin Pietropola had 5 tackles and a sack, and Moser finished with 4 tackles.
Burleigh completed 6-of-14 passes for 90 yards and a touchdown, Hill had 44 yards on 13 carries, and Wise had 66 yards on his only catch of the night. Garrett David had 16 tackles for the Panther defense while Wise and Kipp Hillson had 11 tackles each.
Next up for the Hornets (10-0, 10-0 NTL Large School Division) is a date with Line Mountain in the District IV Class AA playoffs. This is the first game the Hornets have hosted at their home field since 1995 when they played Line Mountain. Official playoff dates and times will be announced over the weekend.
"It'll be our first true home district game," Hildebrand said of next week's matchup. "We've had a few home games apparently the last 5 years but this is the first at our home. I think our guys will be super excited for that. They've played great all year at home so we're looking forward to going back there and playing as much football there as we can this year. Every week counts now or you're going home. I don't think these guys want to stop playing yet, I'll miss these guys if we do so that'll be a driving force as well and we have to come ready to play."