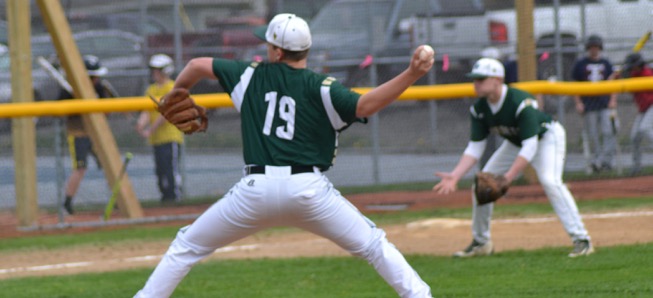 Hornets stomp CV, 12-0 in five innings
By: Ed Weaver | NTL Sports | April 29, 2017
Freshman Billy Lechler threw a one-hitter as the Wellsboro Varsity Baseball team shutout Cowanesque Valley 12-0 in five innings on Friday, April 28.
"Billy was focused and ready to play," said head coach Philip Prough. "He can take it to another level when he's in that zone. Throwing a 1 hitter against a good hitting team takes a solid effort. Our defense has been solid the last two games too. That's giving our kids confidence to throw."
Lechler went the full five innings, and allowed one hit on 64 pitches, walking one and striking out four for his first career win.
After a scoreless first inning junior Brent English scored in the second to make it 1-0. Wellsboro added five runs in the fourth to put the game out of reach. Juniors Caleb Tennis, Johnny Rowland, Dalton Prough, English, and freshman Silas Wagaman all scored in the inning.
Wellsboro's offense was on point an inning later as the Hornets scored six more runs. Rowland, junior Parker Mann, Wagaman, Prough, sophomore Cam Tennis, and freshman Lucas Citrino all crossed home plate to put Wellsboro up 12-0 for their second straight win.
Rowland was 3-for-3 with an RBI, Lechler was 3-for-4 with 2 RBI's, Prough and Cam Tennis were both 2-for-4, and freshman Carson Davis, Caleb Tennis, English, and Mann added the rest of the hits. Prough had 3 RBI's and Mann added 2 RBI's.
"Offensively, we are improving," Prough continued. "We're putting the ball in play consistently. That's allowing our team speed to have a bigger impact. So we're happy with tonight, but tomorrow brings another quality competitor to the schedule. Coudersport always plays good fundamental baseball. It will be another test for us."
The win evens the Hornets' record at 5-5 (5-4 NTL Large School Division). The team is in action this morning on the road in Coudersport.