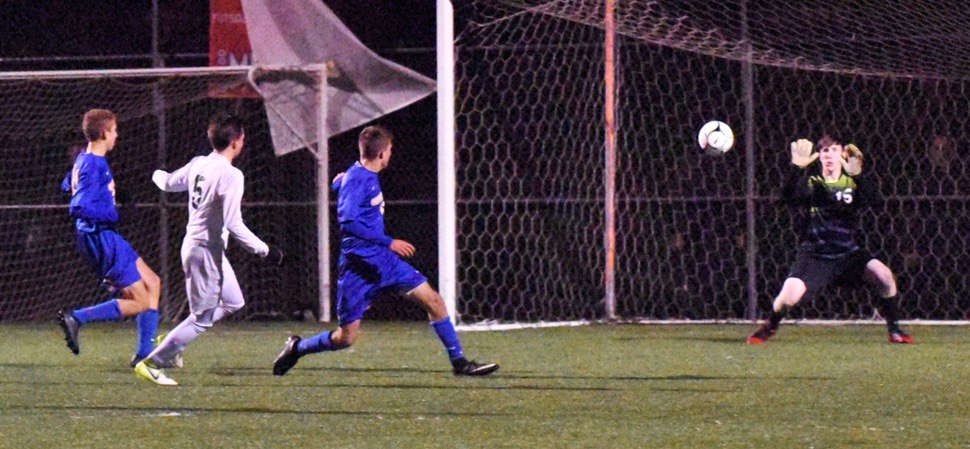 Hornets shutout Greenwood in PIAA first round
By: Ed Weaver | NTL Sports | November 8, 2017 | Photo courtesy Tim McBride, Wellsboro Gazette
The Wellsboro Boys Soccer team took the program to new levels on Tuesday, November 7 in the first round of the PIAA State tournament.
Prior to this season the Hornets have never won a district championship. Check.
Prior to Tuesday's game the Hornets have never won a game on the state level. Check.
"It's amazing, it honestly takes the program to a whole new level. The district championship did that, but this... for all our underclassmen, all the middle schoolers, our youth programs, winning a state game in Wellsboro changes everything and sets the bar that much higher," said head coach John Shaffer. "Whether you're a third grader in our WAYS program or an 8th grader, we now have the expectation to win state games. It just changes everything.
"Four years ago we went to a state game and we knew we were up against it and we were just happy to be there. But tonight we knew we had a shot. I'm just so happy for the boys. They worked so hard against a really, really tough Greenwood team."
The Hornets were tested early on, but the defense prevailed. First, it was an early corner kick that was headed out by junior Cam Tennis. A few moments later junior goalie Nate Redell made two huge saves, one off a direct kick that deflected off the top bar, then 5 seconds later as he recovered from the first missed shot.
Wellsboro also had their chances early as seniors Tanner Runyan and Gabe Leach had shots miss, along with one in front of the goal by freshman Kaeden Mann.
Eventually the Hornets broke through Greenwood's defense after the midway point of the first half.
With 13:03 remaining junior Brett Rudy dropped a pass to senior Noah Fitch, who sent a shot past the Greenwood goalie and into the back of the net for the game's only goal.
"It was very special for me," Fitch said. "It was a great pass that went through the defenders that went right to my feet. I was able to take one touch around the defender and shot it and it went straight into the back of the net. I was speechless and like, 'wow, this really just happened.' It was the best feeling ever."
From that point on, and especially in the second half, Greenwood stepped up the pressure but were unable to crack the Hornets' back line. Just as it's been all season long, the Hornet defense, who only allowed 10 goals in 21 prior games, played huge down the stretch.
"We were winning games this year 14, 13, 10-0 and every day in training I hammered the defense," continued Shaffer. "We trained, and trained, and trained and I just kept telling them that defense in the end was going to be the key. We scored a lot of goals this year but in the end, not giving up goals was going to be key."
As the game pressed on later and later, Greenwood's attacks picked up speed. With under 10 minutes left to play, Greenwood attempted a corner kick that Redell made a jumping save for. A handful of minutes later senior Ryan Stough broke up a breakaway goal opportunity. As the game moved to under four minutes remaining, the Hornet back line cleared a corner kick.
Again with 30 seconds left and Greenwood in desperation mode, Runyan headed the ball out of bounds, securing the Hornet victory.
"The back line is going to get a lot of credit, but it takes a whole team, it takes a village, it takes 11 defending as one. I was all over the center midfielders all game because, to be honest, if we didn't control the midfield we were going to be in trouble. In the first half I thought they had the ball a little more and had more opportunities even though they scored. After halftime there was a lot of pressure on the three midfielders to defend and contain and I thought they did a great job in the second half. Our defense sacrificed, our back line sacrificed and cleaned up when balls got through, but I thought the team as a whole had such good defending the entire second half."
Shaffer was also proud of Redell in goal.
"Nate's awesome. He's so quiet, works his butt off every day. Even though we were winning by a ton in the regular season, he trained hard in practice every day for this moment. It's working all summer and all season to finally get to this moment and it's an awesome reward for him. He came up huge tonight. What won't go down in the stat book is some of the corners he caught. He made great saves and caught corners to take the pressure off. He played huge for us."
Next up for Wellsboro (20-1-1) is a matchup against District 12 champion Masterman, 3-2 overtime winners against Moravian Academy, on Saturday, November 11. The location and time is still to be determined.
"I'm really excited to help win the first state game ever for Wellsboro and we're excited to play on," concluded Fitch.