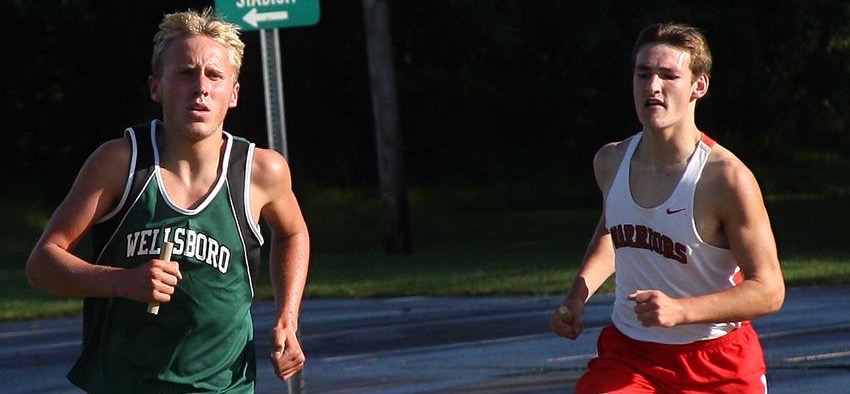 Hornets run at Lasagna Relays
By: Ed Weaver | NTL Sports | September 8, 2017
The Wellsboro Cross Country teams ran at the Lasagna Relays in Wyalusing on Thursday, September 7.
In the boys race, the team of senior Connor Brought, junior Zack Busch, junior Bergen Weiner, and junior Aidan Perry ran a time of 22:20 to finish 3rd overall. The team of sophomore Lucas Citrino, senior Logan Morral, junior Taylor Wheeler, and senior Michael Stefanowicz ran a 26:25.
The girls team of junior Rachel Chamberlain, sophomore Kylie Butler, junior Kara Doane, and Anna Bleggi ran a time of 29:15 to finish 5th.
In the open race freshman Aislinn Hoose ran 7:23, freshman Alexis Banik finished in 7:59, freshman Aidan Fletcher ran 6:50 and senior Noah Smith clocked a time of 9:19.
"We attended o experience competition prior to our NTL meets which begin next week," said head coach Ron Brought. "Overall it was a good day for the Wellsboro runners. They had to deal with a course that was rain soaked and muddy and very congested as the events were combined to get everything completed with bad weather looming. It was tough to gauge how we compare to the other NTL teams though since the distance was only a mile. Our training is focused on racing 5K's so the mile relay isn't indicative of our team's strength at the longer 5K meet distance. All-in-all finishing in the top 5 for both teams is a good start for the team."
In the Middle School race the Wellsboro girls ran a time of 29:44.
Wellsboro's regular season starts on Tuesday, September 12 as they host Athens and Wyalusing at 4:00 p.m.