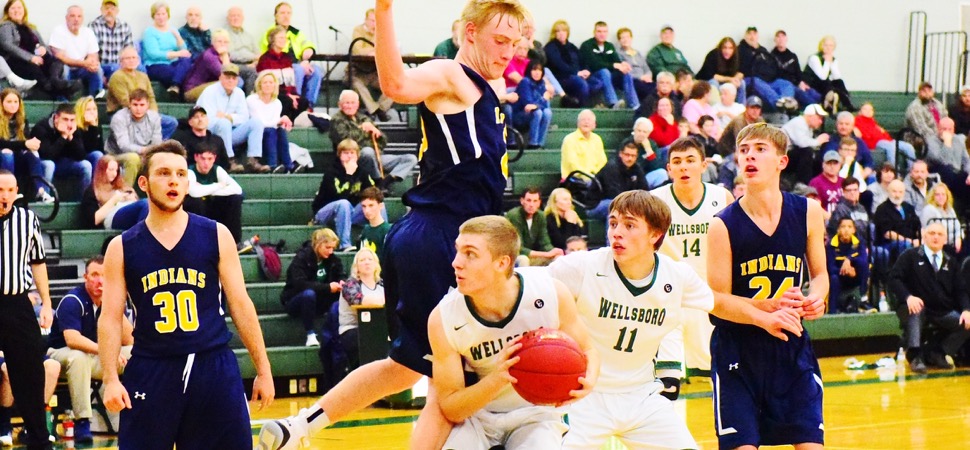 Hornets mercy rule CV, 66-26
By: Ed Weaver | NTL Sports | December 20, 2017 | Photo courtesy Tim McBride, Tioga Publishing
The Wellsboro Varsity Boys Basketball team improved to 5-1 (3-0 NTL Large School Division) on the year after a 66-26 win over Cowanesque Valley on Tuesday, December 19.
Wellsboro's high-intensity defense caused fits for the visiting Indians all night as they forced turnover after turnover.
The Hornets jumped out to an early 15-0 lead in the opening frame, but the Indians eventually found the bottom of the net on their shots late in the quarter as they went on a 7-0 run. With time running out in the quarter, junior Brandyn Tuttle came up with a loose ball and threw up a shot well past the three-point line, giving the Hornets an 18-7 lead.
The Hornets really did their damage in the second quarter. Again the Hornets' stingy defense caused multiple turnovers that led to many wide open shots. Wellsboro went on a 19-2 run to take a 37-9 lead at the half.
The early stages of the second half were much like the first half for Wellsboro as the defense again created multiple turnovers on their way to another 19-point quarter. Once Wellsboro's younger players entered the game, CV made a little run, but were still no match.
Four of Wellsboro's starting five were in double figures in scoring on the night, led by senior Collin Pietropola with 12. Seniors Dalton Prough and Nic Ingerick, along with Tuttle, all added 11 points and senior Quinn Henry finished with 9.
Tuttle and junior Hunter Brown both grabbed 8 rebounds, Prough finished with 6 rebounds and 6 assists, Pietropola had 4 rebounds and a steal, and junior Andrew Brelo had 4 rebounds and 4 steals.
In the JV game, the Hornets won 45-25 to improve to 3-1 on the season. Sophomore Ty Morral led all scorers with 16 points and sophomore Karter Witmer and freshman Joseph Grab added 11 points each.
The Hornets will be back in action on Thursday, December 21 on the road in Williamson.