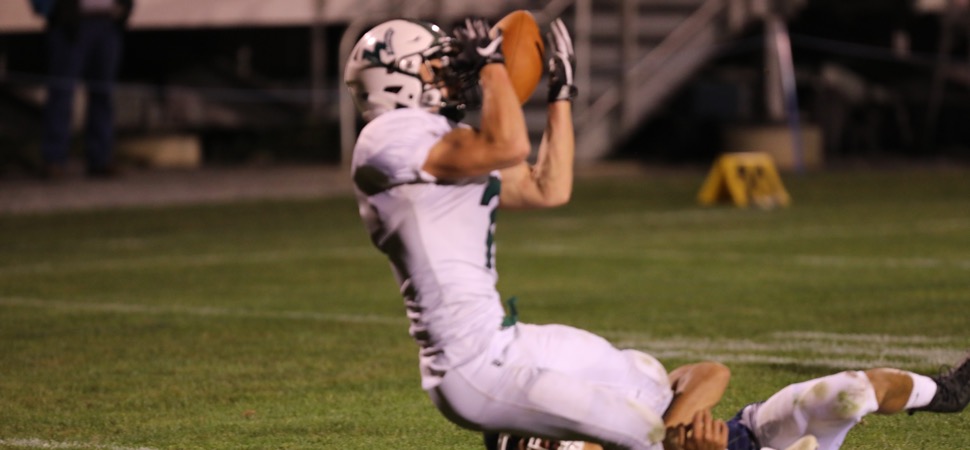 Hornets hand Muncy 46-14 loss
By: Ed Weaver | NTL Sports | September 30, 2017
The Wellsboro Green Hornets and Muncy Indians entered their week six game both undefeated. Wellsboro kept their perfect record in a 46-14 win on Friday, September 29.
Muncy won the coin toss and received the kick to start the game, but were held to a three-and-out. After taking over possession Wellsboro immediately went to the air. Senior Quinn Henry connected on two hitch routes to senior Dalton Prough and Prough turned the second catch into a 43-yard gain down to the Muncy 5. From there, senior Chase Moser punched the ball in to put the Hornets up 6-0 after a failed two-point conversion.
Muncy answered Wellsboro's touchdown with one of their own on the game's next drive. A breakdown in the Hornet secondary left Mike Kustanbauter wide open and Coleman Good found him for a 48 yard touchdown. Nate Paisley's extra point put the Indians in front 7-6 with 6:51 remaining in the first quarter.
That lead would be short-lived, however, as Wellsboro scored 40 straight points.
After an interception on Wellsboro's second drive, senior Brent English returned the favor and picked off a Good pass and returned it 20 yards for a score. Wellsboro again went for two, but again it failed, and the Hornets led 12-7. After another Muncy three-and-out the Hornets again put more points on the board. On Wellsboro's second play of the drive Henry broke free on a 68-yard run to bring the score to 18-7 with 1:24 remaining in the first.
Wellsboro scored to start the second quarter as Henry found Moser open down to the Muncy one, then after a negative run and a penty Henry called his own number and crossed the goal line from 7 yards out. Senior Nic Ingerick made the extra point and the Hornets took a 25-7 lead with 9:46 left in the half.
Both teams traded drives that ended in punts and chewed up the clock as a rain storm moved into the area. After a Collin Pietropola punt ended the Hornets' drive, a second Muncy turnover, this time a Good fumble, set up the Hornets on the Muncy 37-yard line. It took Wellsboro 6 plays to score on the drive as Henry found sophomore Aidan Hauser on a swing pass that turned into a 33-yard touchdown. Ingerick's extra point put Wellsboro up 32-7 with 2:24 remaining in the half.
As the first half came to a close Wellsboro again capitalized on a Muncy turnover. Good was intercepted for a second time on the night, this time by Prough, and was returned to the house 69 yards for another defensive touchdown. Ingerick's third straight kick put Wellsboro up 39-7 to end the first half.
Wellsboro started the second half with the ball and went right to work marching the ball down the field. A 16-yard Henry run and a 9-yard pass to senior Alex Kozuhowski put Wellsboro at midfield, but a holding penalty on a Hauser run moved the ball back into Wellsboro territory. A 12-yard run by Henry, a 7-yard pass to Hauser, and 9-yard gain by Moser moved the ball down inside the Muncy 30. Back-to-back runs by Henry setup Wellsboro with a first-and-goal where Moser capped the 12-play drive from 7 yards out to put the Hornets up 46-7 with 6:49 remaining.
Muncy added one more score on the night. With 8:03 remaining in the fourth quarter with a running clock, Good pushed his way into the end zone from 3 yards out to bring it to 46-14 after a second Paisley kick.
After Muncy's final touchdown, Wellsboro's JV team played the remainder of the game and ran out the clock to seal the win.
Henry completed 10-of-16 passes for a career-high 222 yards and a touchdown to break 3,000 yards for his career. He also rushed for 112 yards on 12 carries with 2 scores to put him at 50 career rushing touchdowns. Henry has now scored 91 career touchdowns (38 passing, 50 rushing, 1 receiving, and 2 punt returns) in a Green and White uniform.
Moser finished with 63 yards rushing on 7 carries and caught 1 pass for 39 yards, sophomore Clayton Orsborn had 33 yards on 5 carries, Hauser caught 4 passes for 58, and Prough led all receivers with 116 yards on 4 catches. Defensively, junior Hunter Brown led Wellsboro with 7 tackles, junior Robert Brown made 6 tackles, and Pietropola pitched in with 5 tackles.
"I like where we are sitting right now," said head coach Matt Hildebrand following his 45th career win. "This is where we wanted to be coming into the season. We're in the drivers seat and we just have to continue taking care of things on the field every week and be smart what we do out here and hopefully we continue to play good football, stay healthy, and continue to take care of our guys as we move ahead."
Next up for Wellsboro (6-0, 6-0 NTL Large School Division) is Cowanesque Valley (2-4, 2-4 NTL Small School Division) for Homecoming on Friday, October 6.