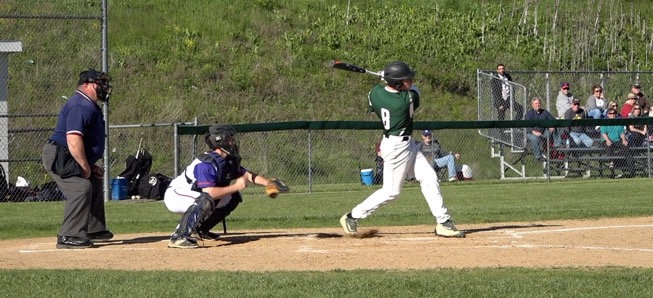 Hornets fall to Danville, 6-2
By: Ed Weaver | NTL Sports | May 16, 2017
The Wellsboro Varsity Baseball team dropped their second straight game with a 6-2 loss to Danville on Monday, May 15.
"We faced a good pitcher tonight," said head coach Philip Prough. "Braeden Fausnaught had good control of his fastball and curve. With above average velocity, he's tough to hit. Give him credit. On our side we gave up 4 hits with 0-2 count on the batters. We attacked the zone but didn't know when to avoid the zone. Danville is a disciplined team and well coached. They took advantage of our mistakes. But even so, we didn't play poorly. Just flat. We'll need more energy on Wednesday because it's do-or-die for us."
Wellsboro struggled the entire night at the plate with 7 total hits which allowed Danville to jump on top early. The Ironmen scored three runs in the first two innings, then added three more to take a 6-0 lead before the Hornet bats finally woke up in the bottom of the fifth.
Junior Dalton Prough started the inning off with a double and sophomore Cam Tennis singled in the next at bat. An error on the throw allowed both Prough and Tennis to advance an extra base, with Prough taking home to cut the score to 6-1. A base hit by freshman Carson Davis scored Tennis making it 6-2, but the rally ended there.
Davis was 2-for-2, Prough was 2-for-4, junior Brent English was 1-for-3, and Tennis and freshman Billy Lechler were both 1-for-4. Lechler started on the mound for the Hornets and allowed 6 runs (all earned) on 7 hits and 4 walks in 4 innings of work. Sophomore Taynton Repard came on for the final three innings, scattering 3 hits.
The loss drops the Hornets to 9-10. The team will be back in action at home on Wednesday, May 17 against Milton and needs to win to qualify for District IV playoffs.