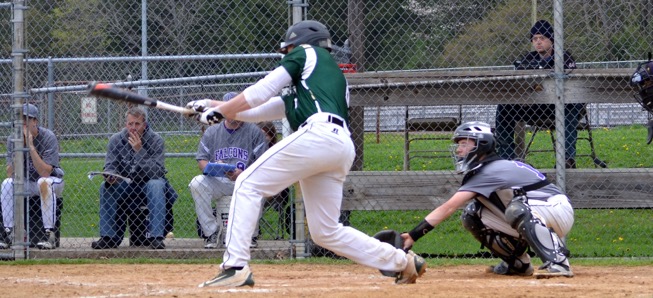 Hornets fall to Coudersport in extra innings
By: Ed Weaver | NTL Sports | April 30, 2017
The Wellsboro Varsity Baseball team dropped a hard-fought 4-3 game to Coudersport in eight innings on Saturday, April 29.
"A tough game today. Coudersport is a fundamentally good team," said head coach Philip Prough. "We played well enough to win, they just made one more play than us today. We had our chances, but just didn't execute in one or two spots of the game. Overall, I still feel good in the direction we're heading. Next week will be big for us but I think we'll be ready for the challenge."
Wellsboro left freshmen Billy Lechler and Carson Davis stranded on base in the first and the Falcons made them pay in the bottom half of the inning. Kolby VanWhy drew a walk and Kullen Crosby was hit by a pitch to put two men on for Elijah Ayers. Ayers delivered with an RBI sacrifice fly to left field to score VanWhy to make it 1-0.
The Hornets came back to tie the game in the top of the fourth as junior Caleb Tennis singled to get on base and junior Brent English had a base hit to eventually score Tennis. The Hornets then took the lead in the top of the fifth with two runs by freshman Silas Wagaman and junior Dalton Prough, who both singled to start the inning, giving the Hornets a 3-1 lead.
Coudersport got a run back in the fifth and the sixth to tie it at 3-3. Neither team was able to generate any offense in the remaining innings, sending the game into extra innings. Tennis singled to lead off the top of the eighth, but a fielder's choice and back-to-back strikeouts ended the Hornets' chances of picking up their third win of the week as Coudersport's Owen Chambers hit an RBI single to score Hunter Redmond for the game's winning run in the bottom half of the inning.
Wagaman was 2-for-3 at the plate, Tennis was 2-for-4, and Prough, Lechler, Davis, English, and junior Johnny Rowland added hits. Rowland started on the mound for the Hornets, pitching 2 innings with an earned run and 2 hits. Davis threw the game's final six innings in a losing effort, scattering 4 hits with 4 walks and 4 strikeouts.
The loss drops the Hornets to 5-6 (5-4 NTL Large School Division). The team will be back in action on Monday, May 1 at home against Towanda.