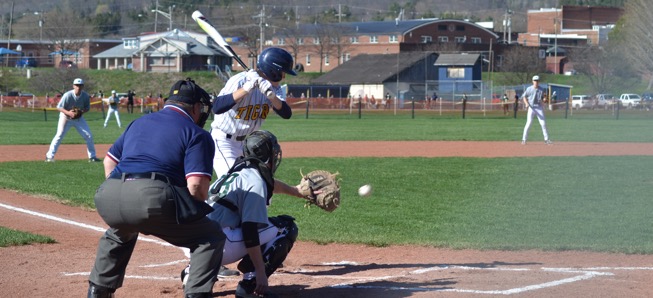 Hornets drop fourth straight in 13-2 loss to Mansfield
By: Ed Weaver | NTL Sports | April 19, 2017
The Wellsboro Varsity Baseball team dropped their fourth straight game in a 13-2 loss to rival North Penn-Mansfield on Tuesday, April 18.
After a scoreless first inning, the wheels fell off for Wellsboro in the bottom of the second as the Tigers scored 10 runs. Mansfield scored 10 runs on six walks. Carl Dinger and Joel Whitteker had back-to-back singles to start the inning and Derrick Herbst reached on error to load the bases. A walk by Justice Giarth scored Dinger for the game's first run, then Dylan Wesneski singled to score both Whitteker and Herbst to make it 3-0. Giarth scored as JP Shaw drew a walk with the bases loaded to make it 4-0, a Dylan Williamson single scored Wesneski and Brendan Hill to increase the lead to 6-0.
Two more walks to by Dinger and Whitteker brought home Shaw, Nate Mahonski scored on a wild pitch to make it 8-0, Dinger scored after another Giarth walk, and Whitteker made it 10-0 on a Wesneski sacrifice fly to center.
Wellsboro avoided the shutout in the top of the third with two runs. Freshman Silas Wagaman reached first on error and advanced to third on a double by junior Dalton Prough. A Cam Tennis single brought Wagaman home, and Prough scored as freshman Billy Lechler hit into a fielder's choice to make the score 10-2.
Mansfield added 3 more runs in the bottom of the fourth to close out the game. Whitteker led off with a walk and would later score. A bunt single by Kipp Hilson scored Herbst to make it 12-2, and Dewey Wise scored on a Shaw sacrifice fly to make it 13-2.
Prough, Cam Tennis, junior Caleb Tennis, Lechler, freshman Carson Davis, junior Brent English, and Wagaman combined for all of Wellsboro's hits, and Prough and Wagaman had doubles. Davis took the loss for Wellsboro, going 1 and 1/3 innings with 10 runs, four walks, and a strikeout. Sophomore Taynton Repard and Lechler each pitched giving up three hits, three runs, and five walks.
The loss drops the Hornets' record to 3-4 (3-3 NTL Large School Division). The team will be back in action on Thursday, April 20 at Wyalusing.