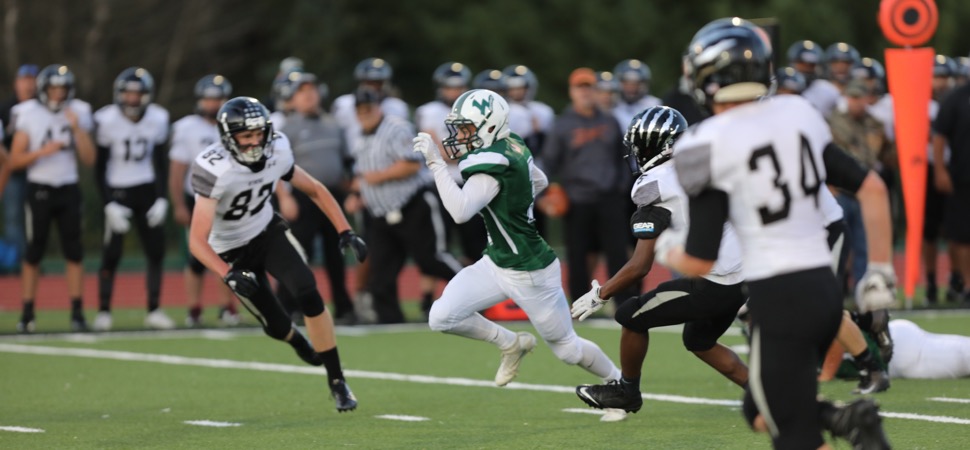 Hornets dominate Wildcats in 42-7 win
By: Ed Weaver | NTL Sports | September 9, 2017
The Wellsboro Varsity Football team racked up 42 points against Athens in their NTL Large School win on Friday, September 8.
The mission for the Hornets was simple. Stop Zack Jayne, stop the Wildcats. Jayne, the NTL's second leading rusher, came into Friday night's game with 415 yards and 9 touchdowns on 46 carriers (9.0 yards/att). Wellsboro had other things in mind as they held him to just 67 yards on 19 carries.
After a 9-play drive by the Wildcats to open the game, the Hornet defense forced Athens to punt at the Wellsboro 40. With senior Quinn Henry back returning, he fielded the punt inside his own 10-yard line and returned it 31 yards to set the Hornets up at their own 39-yard line. A 24 yard pass from Henry to sophomore Aidan Hauser took the Hornets down to the Athens' 37. Back-to-back Henry runs, a 3-yard and a 34-yard run, had the Hornets up 7-0 with 6:49 showing on the first quarter clock.
Wellsboro held Athens to a three-and-out, got the ball back, and went right to work. This drive Hauser found the end zone. On the Hornets' third play from scrimmage, Hauser sprinted up the middle and away from the Wildcat defense for a 72 yard score. Senior Nic Ingerick's extra point split the uprights to put Wellsboro up 14-0 with 2:32 remaining.
Both teams traded drives through most of the second quarter, but with under two minutes remaining, a sack by junior Hunter Brown on Athens' Kaden Rude gave the ball back to Wellsboro after a punt. From there senior Chase Moser broke off a 31-yard run down to the Athens' 23. Another run by Moser, and two runs by Henry setup the Hornets with a first-and-goal at the 5. Two plays later, Henry was in the end zone for the second time of the evening, and the 41st of his career, with 1:28 remaining to make it 21-0.
On the first play of Athens' next offensive possession, Hunter Brown again was causing chaos. This time he recovered a Nick Watkins fumble in Wildcat territory. After a 9-yard run by Henry, Henry launched a 30-yard pass to senior Dalton Prough to make it 28-0 with 39 seconds left in the half.
Wellsboro started the second half with the ball but only had possession for 21 seconds. On the drive's first play Hauser turned on the jets and raced 76 yards to paydirt to put the Hornets up 35-0. Midway through the quarter, after another Wildcat punt, Wellsboro scored for the final time. On second-and-13 from the 24, Henry found Prough for a 26 yards gain. Two plays later it was Moser's turn as the senior running back scampered 49 yards to push the lead to 42-0.
Athens avoided the shutout with 10:36 left in the game as Kaden Rude connected with Keegan Rude on a 24-yard touchdown pass to make it 42-7 after Aric Westbrook's extra point.
Henry finished with 57 yards rushing on 11 carries and was 4-for-6 passing for 81 yards and his 34th career passing touchdown. Hauser led all rushers with 161 yards on 5 carries (32.2 yds/car), Moser racked up 113 on 6 attempts, and sophomore Clayton Orsborn gained 45 yards on 4 carries in the fourth quarter.
Prough caught two passes for 56 yards and a score, Hauser caught 2 balls for 25 yards, and sophomore Jacob Trowbridge caught a 3-yard pass from sophomore Karter Witmer.
Hunter Brown led the Wellsboro defense, who allowed just 176 yards of total offense, with 5 tackles, 2 sacks, and a fumble recovery. Senior Brent English made 6 tackles on the night and forced a fumble, junior Robert Brown and senior Alex Kozuhowski also recorded 5 tackles, and Prough had two tackles and forced a fumble.
The win improves the Hornets' record to 3-0 (3-0 NTL Large School Division). The team will be back in action on Friday, September 15 against Towanda.