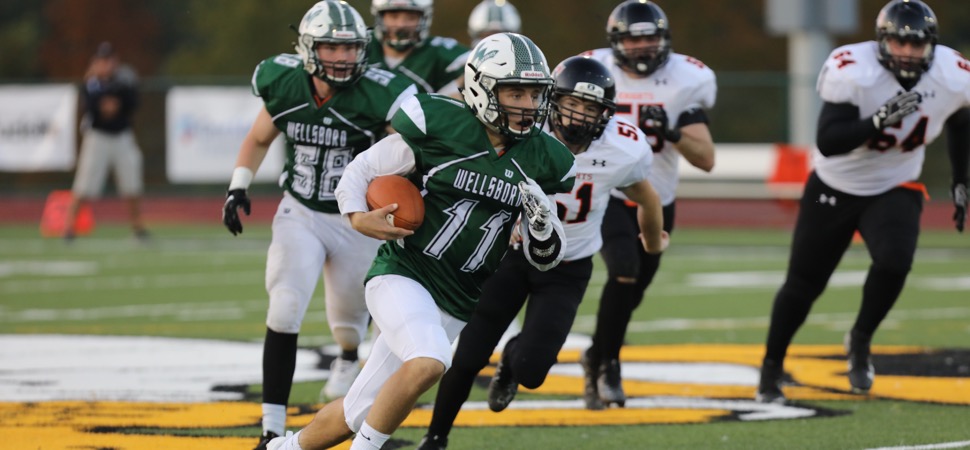 Hornets answer bell against Towanda
By: Ed Weaver | NTL Sports | September 16, 2017
The Wellsboro Varsity Football team continued to roll through their competition with a 50-9 win against the Towanda Black Knights on Friday, September 15.
Wellsboro wasted little time showing why they are the top offensive team in the NTL as their first drive lasted just four plays. Senior Quinn Henry broke free on a 24 yard run then later scored from 31 yards out to put the Hornets up 6-0 not even two minutes into the game.
Unlike the Hornets' first three opponents, the Black Knights were able to move the ball early on. Towanda's first two drives both accounted for over 8 plays and chewed up the remaining minutes of the first quarter. 11 seconds into the second quarter, Towanda's Luke Tama caught a 9-yard pass from Tanner Kunkle to give Towanda a 7-6 lead.
The Black Knights' lead didn't last long, in fact it only lasted 52 seconds, as the Hornets began their third drive of the night. After a touchback, Henry found senior Dalton Prough on a 5-yard pass but a penalty before their second play put the ball back on the original line of scrimmage. Henry then called his own number and went through the middle of the Towanda defense from 80 yards out to put Wellsboro back in front for good. Henry completed a two-point pass to Prough to bring the score to 14-7 with 10:57 remaining in the first half.
Wellsboro went on a scoring spree the remainder of the half while holding Towanda to just 14 plays.
After a three-and-out by Townanda, Henry connected with Prough on a 62-yard pass. Henry ran in the two-point conversion to put Wellsboro up 22-7. The Hornets immediately got the ball back as senior Alex Kozuhowski recovered a fumble on the kickoff, placing the Hornets at the Towanda 48-yard line. Wellsboro marched right down the field in 8 plays and Henry capped the drive from a yard out. Senior Nic Ingerick's kick split the uprights to make it 29-7.
The Hornets quickly got the ball back as senior Collin Pietropola ended Towanda's following drive with the first of his 3 sacks on the night. After taking over possession on a punt, Henry did it again, this time from 55 yards out to push the score to 36-7 with 3:07 remaining in the half.
Once the second half started, Wellsboro picked right back up where they left off. After Towanda's opening second half drive ended on a three-and-out, head coach Matt Hildebrand and staff dug into the bag of tricks on the punt. As Kozuhowski fielded the punt, he flipped it to Henry who picked up a huge 50-yard game down to Towanda's two-yard line. Henry then punched the ball across the goal line for his 46th career rushing touchdown, and fifth of the game, good enough for 2nd all-time in Wellsboro Football history* with Derek Harsch.
"The guys up front paved the way for all of that and I couldn't do it without them," Henry said. "Dalton Prough was throwing blocks 30 yards down field, Kojo and all the receivers throwing blocks... I just couldn't do it without them."
Wellsboro added one more score, again after forcing Towanda on a three-and-out. The drive was highlighted by a 48-yard pass from Henry to senior Chase Moser and back-to-back 14 and 13-yard runs by sophomore Aidan Hauser. Hauser scored on the 13-yard run to put Wellsboro up 50-7 with 5:20 remaining in the third quarter.
Towanda added the game's final points on a defensive safety to start the fourth.
Henry finished with a career-high 209 yards rushing on 10 carries and 5 touchdowns while throwing for 129 yards and a score on 5 completions. Prough caught 4 passes on the night for 81 yards and a score.
Defensively Moser led the Hornets with 8 tackles, 1 sack and a forced fumble; junior Hunter Brown had 7 tackles; Pietropola, senior Brent English, and junior Robert Brown all had 6 tackles; and Kozuhowski finished with 5 tackles and 2 fumble recoveries. Pietropola also added 3 sacks and a forced fumble.
"I think our guys are clicking a little bit," Hildebrand said. "It took us a little while to get started, we were a little slow out of the gate for whatever reason. We can't do that moving ahead. We played well, we picked it up but we can't have slow starts."
Next week the Hornets are on the road for the first time of the season in Troy on Friday, September 22.
"It's our first away game but a lot of these guys after the last few years are 'road warriors' so they're pretty experienced there. Maybe a change of scenery next week will be good for the guys and we'll get started quicker."
* - Records may not be accurate to date due to incomplete stats. If you know of a record not currently listed on this page, or have game statistics or film from previous years, please contact us.