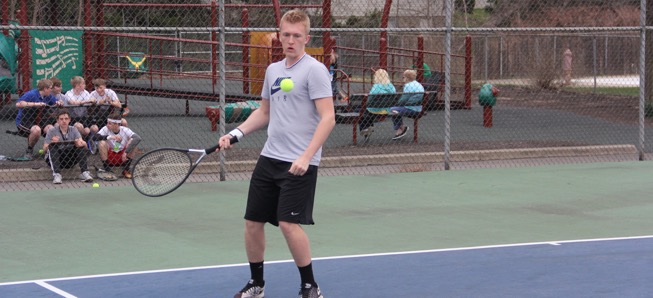 Hornet tennis sweeps North Penn-Liberty
By: Ed Weaver | NTL Sports | April 27, 2017
The Wellsboro Boys Tennis team extended their win streak to three matches with a 7-0 sweep of North Penn-Liberty on Wednesday, April 26.
Singles Results
Nate Redell def. Jonathon Nelson 6-0, 6-0
Noah Fitch def. Zach Fetzer 2-6, 6-4, 6-2
Ryan Stough def. Issac Weaver 6-0, 6-0
Luke Leach def. Zach Kerstetter 6-0, 6-0
Logan Morral def. Nick Burge 6-0, 6-2
Doubles Results
Tanner Runyan/Stough def. Nelson/Fetzer 6-1, 6-0
Zach Lundgren/Kyle Reese def. Weaver/Dave Maslar 6-0, 6-0
"We played well against Liberty, and won at every position," said head coach Margery Hoffman. "I was pleased with the way we minimized our unforced errors and double faults. The boys are peaking this week."
The win improves the Hornets' record to 3-8 (3-2 NTL). The team is back in action this afternoon at Packer Park for Senior Night against Bloomsburg.