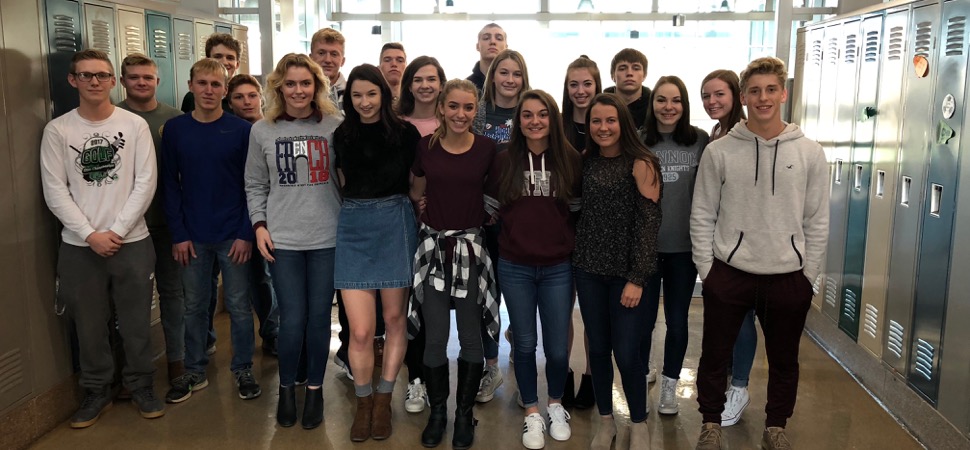 Henry named Wellsboro Gazette Male Athlete of the Fall
By: Ed Weaver | NTL Sports | December 7, 2017 | Photo courtesy Ed Weaver
Senior Quinn Henry was named the Wellsboro Gazette's Male Athlete of the Fall at their Fall Sports Awards banquet on Sunday, December 4.
Henry had a stellar 2017 fall season as he guided the Hornets to a 10-1 record and the football team's sixth straight Morton F. Jones Trophy win over rival North Penn-Mansfield. Henry threw for 1,207 yards and 13 touchdowns and rushed for 1,320 yards and 27 touchdowns.
In addition to Henry being named Male Athlete of the Fall, multiple Hornets received awards from the Gazette.
Up-and-Coming All-Stars
Megan Starkweather (volleyball)
Aidan Hauser (football)
Caitlyn Callahan (volleyball)
Joseph Propheta (golf)
Aidan Fletcher (boys xc)
Aislinn Hoose (girls xc)
Honorable Mention All-Stars
Brandyn Tuttle (golf)
Taynton Repard (golf)
Brett Rudy (boys soccer)
Kailee Clymer (girls soccer)
Chase Moser (football)
Connor Brought (boys xc)
Morgan Guthrie (girls tennis)
Speciality All-Stars
Jillian Graver (volleyball)
Gabe Leach (boys soccer)
Sydney Tremper (girls soccer)
Dalton Prough (football)
Outstanding All-Stars
Quinn Henry (football)
Caitlyn Callahan (volleyball)
Cheyenne Sherman (volleyball)
Brianne Keane (volleyball)
Ben Barnett (golf)
Aidan Perry (boys xc)
Anna Bleggi (girls xc)
Tanner Runyan (boys soccer)
Olivia Ryan (girls tennis)
Kristen Bair (girls tennis)
WellsboroAthletics.com would like to congratulate all the athletes who received recognition from the Wellsboro Gazette.