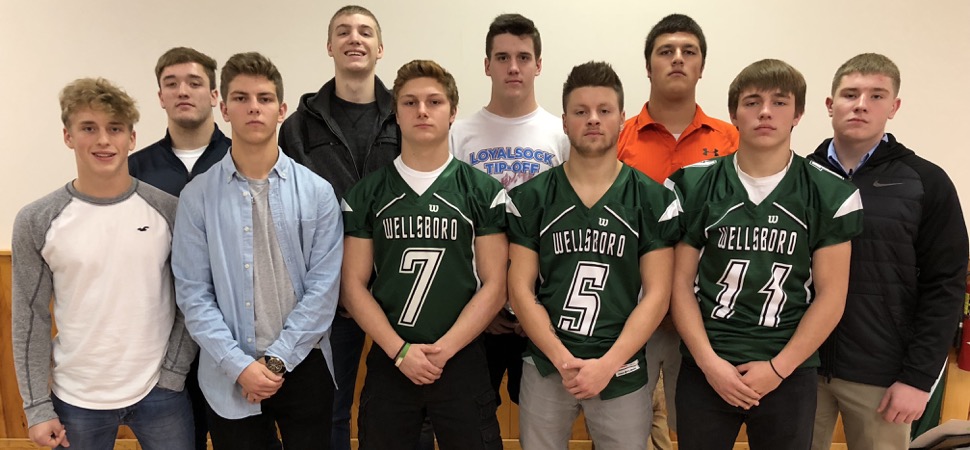 Henry, Brown, Pietropola named NTL Large School Players of the Year
By: Ed Weaver | NTL Sports | December 19, 2017 | Photo courtesy Ed Weaver
Seniors Quinn Henry and Collin Pietropola along with junior Hunter Brown were all named Players of the Year as the Northern Tier League Large School Division All-Star team was announced on Tuesday, December 19.
Henry was named the Large School Division's overall Player of the Year as he set record after record this season. Henry accounted for 2,928 yards this season, rushed for his third consecutive 1,000-yard season (1,320) and threw for 1,207 yards to top the 1,000-yard mark for the second time of his career. He threw for 13 touchdowns, rushed for 27, caught one, and returned two punts. For his career he scored 110 combined touchdowns.
Pietropola was named Lineman of the Year as he helped the Hornets rush for 3,425 yards as a team and score 527 points (47.9 per game). On the defensive side, Pietropola recorded 49 tackles, had an interception for 15 yards, recovered 4 fumbles and had 5 sacks.
Hunter Brown was named Defensive Player of the Year. Brown had a career year with 72 tackles, 2 interceptions for 63 yards, 5 recovered fumbles, and 7 sacks.
Wellsboro's first team selections were Henry, senior Chase Moser (LB), Pietropola (OL & DT), Hunter Brown (DE), senior Alex Kozuhowski (DB), and senior Nic Ingerick (K).
Moser rushed for 610 yards and scored 12 touchdowns and caught 8 passes for 106 yards. On the defensive side of the ball he made 44 tackles, recorded 3 interceptions for 117 yards, recovered 2 fumbles, and had 2 sacks.
Kozuhowski rushed for 126 yards on 14 carries, caught 11 passes and a touchdown for 239 yards, and made 32 tackles, had an interception, and recovered 3 fumbles.
Ingerick was 38-for-43 (0.884) on extra points this season.
The Hornets second team picks were senior Dalton Prough (WR), Hunter Brown (T), junior Robert Brown (DT), Moser (LB), senior Brent English (LB), and Pietropola (P).
Prough caught 20 passes for 463 yards and 8 touchdowns. Defensivley he made 16 tackles, had 2 interceptions for 69 yards, and forced a fumble.
After an All-State caliber season in 2016, Robert Brown helped the Hornets on the defensive line. He made 55 tackles, forced 2 fumbles, and made 5 sacks.
English recorded 41 tackles, returned an interception for a 20-yard touchdown, forced 2 fumbles, and had a sack.
Also recognized as honorable mentions by the coaches were sophomore Aidan Hauser (RB), Kozuhowski (WR), and Prough (DB).
Hauser had a career-year in 2017, rushing for 772 yards and scoring 10 touchdowns and catching 24 passes for 300 yards and 4 scores.
"I want to congratulate all those selected as post season all-stars," said head coach Matt Hildebrand. "These are very deserving honors that come after many hours of hard work and I am proud to see each and every player honored. To those seniors, this this a great way to end your high school careers. Under classmen, this is a great honor but use it as motivation to repeat it again in the future."
WellsboroFootball.com and WellsboroAthletics.com would like to congratulate all members of the NTL Large School Division All-Star team.
View the complete 2017-18 NTL Football All-Star teams.