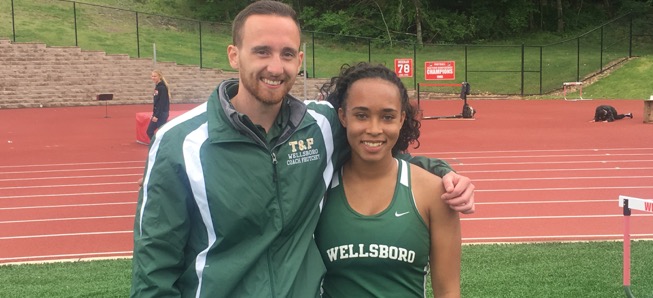 Dahlia Hosey qualifies for State Championships
By: Ed Weaver | NTL Sports | May 21, 2017
Sophomore Dahlia Hosey became Wellsboro's second track & field athlete to qualify for states on Saturday, May 20.
Like her brother, Dupree Hosey on Thursday in the long jump, Dahlia qualified for her first state meet in the triple jump on Saturday. Dahlia jumped 36-ft, 1.25-in for a 2nd place finish. Her jump also beat the state qualifying standard of 35-ft, 6-in.
"It's very exciting, I'm pretty happy about it," Hosey said.
Wellsboro head coach Elizabeth Hoover is very proud of her team's performance at Districts.
"I thought we did a great job. Dupree and Dahlia are both going to states and we had a lot of PR's," Hoover said.
In the other Saturday events, Dupree finished 5th in the triple jump (40-ft, 10.5-in), senior Samantha Spurgeon (81-ft, 4-in) was 20th in the discus with senior Hannah Lawton (74-ft, 1-in) was 25th, senior Brandon Lamphier (144-ft, 6-in) was 12th in the javelin, sophomore Elizabeth Macias (5:54.73) was 24th in the 1600m, and junior Wyatt Dean (54.26) was 14th in the 400m.
The Wellsboro girls (11:06) and boys (9:11.73) were both 13th in the 4x800m. The boys 4x100m team (46.58) finished 12th, the girls 4x400m team (4:42.98) was 21st, and the boys 4x400m team (3:46.32) was 14th.