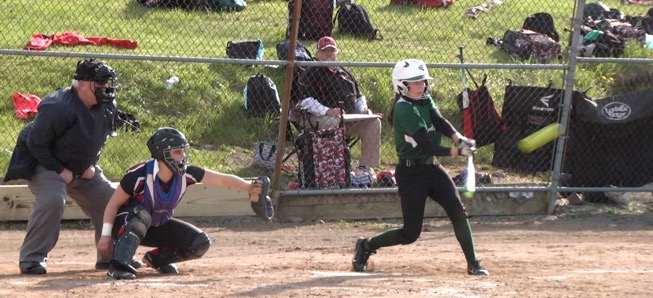 Clymer homer pushes Lady Hornets past North Penn-Liberty; claim NTL title for third straight year
By: Ed Weaver | NTL Sports | May 9, 2017
A solo home run by junior Kailee Clymer in the bottom of the fifth inning gave the Wellsboro Varsity Softball team a 5-3 win over rival North Penn-Liberty on Monday, May 8.
The Lady Hornets trailed after the top of the third as the Lady Mounties poured on the offense with three runs. Carmen Bates led off the inning with a shallow pop fly to short to reach base followed by a base hit to right field by Brooke Harvey. A hit back to the pitcher by Savanah Doney loaded the bases for Mackenzie Heater, who reached on an error by freshman Ryann Adams to score Bates. A base hit to right field by Abby Heatley scored Harvey and an infield hit by Emily Strange scored Doney to put North Penn-Liberty up 3-0.
"The third inning we struggled some, gave up a few hits, Alyssa got hit with a hard line-drive right back at her that kind of rattled them a little bit but it happens," said Wellsboro head coach Ron Brought. "Every team at this age every now and then you're going to have a bad inning but they responded very well. We kept getting runners on every inning and out-hit them 10-6 and if it wasn't for that inning the score would've been much more in our favor."
From that point on it was all Wellsboro. Junior Alyssa Yungwirth started the bottom of the third with a base hit followed by a double by junior Sydney Tremper. A single by freshman Cathryn Brought scored Yungwirth and a single by junior Brianne Keane scored Tremper from second to cut the score to 3-2 entering the fourth.
Wellsboro capitalized on two Liberty errors to take their first lead of the afternoon in the bottom of the fourth after Clymer recorded all three outs in the top half of the inning. Sophomore Tiana Lecker reached on an error to start and an Adams base hit put two on board. After back-to-back outs Brought reached on a throwing error from third base to score both Lecker and Adams, putting Wellsboro on top 4-3.
Yungwirth retired the next nine Liberty batters in order, with Clymer's home run in the bottom of the fifth, to win their 12th straight game. The junior finished the complete game on the mound allowing six hits and striking out 11 for her 11th win of the season and went 3-for-4 at the plate.
Clymer was 2-for-3 with her first career home run and 2 RBI's, Adams was 2-for-4, and Tremper, Brought, and Keane rounded out the Lady Hornets' 10 hits.
"Defense was outstanding again tonight," concluded Brought. "Strong plays by Kailee at short, Heidi Zuchowski did a fantastic job at first base, outfielders made the plays when they had to, and Alyssa on the mound with 11 strikeouts, that's a great combination."
The win improves Wellsboro to 13-1 (12-1 NTL) and clinch the NTL Large School Division championship for the third straight year. The team will be back in action on Wednesday, May 10 as they host Wyalusing.