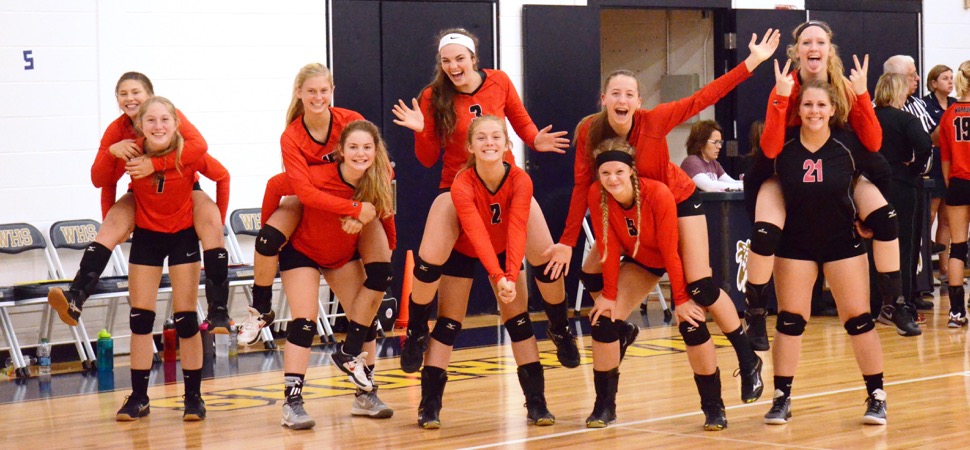 Canton wins Williamson Volleyball Tournament, Wyalusing 3rd at Pleasant Valley Tournament
By: Ed Weaver | NTL Sports | September 11, 2017
Numerous Northern Tier League volleyball teams took part in tournaments on Saturday, September 9.
Williamson Tournament
Canton defeated Sayre in the championship match to win the Williamson Tournament on Saturday. Canton won the match in three sets, 22-25; 25-23; 15-11. To get to the championship game, Canton beat Cowanesque Valley in 3 sets (25-13, 20-25, 15-11) and Sayre defeated Galeton in three sets (12-25, 26-24, 15-11).
Of the seven NTL team competing in the tournament (Northeast Bradford, Williamson, CV, Canton, Galeton, Northern Potter, and Sayre), the top four qualified for the championship bracket.
In pool play, Northern Potter was 0-12, NEB went 3-9, Williamson and CV both finished 6-6, Sayre was 8-4, Galeton was 9-3, and Canton was 10-2.
Pleasant Valley Tournament
Wyalusing took home 3rd place in the Pleasant Valley Tournament on Saturday. The Lady Rams went 5-1 in pool play finishing 1st in their pool and splitting with Pleasant Valley (25-16, 22-25) in the crossover match. They then faced Pleasant Valley again in the semi-finals, and lost both sets (18-25, 22-25) placing Pleasant Valley and Mount Olive (NJ) in the finals. Mount Olive won in two sets.
Against Hazleton the Rams won 25-21, 25-17, then won 25-19, 26-24 against Stroudsburg, and finished their pool with Easton (25-21, 24-26).
Makayla Voda had 12 kills, Lylah Oswald made 9 kills and 4 aces, Karlye Huffman had 74 assists and 8 aces, Melody Kneller racked up 42 kills and 6 aces, Daphne Fassett finished with 5 aces, and Kristie Epler made 42 digs.
Wyalusing's JV team went 6-6 in pool play and just missed making playoffs.
Wellsboro 3, Coudersport 1
The Lady Hornets improved to 2-0 after a non-league win over Coudy on Saturday. After dropping the first set 25-22, the Lady Hornets regrouped to sweep the next three. Wellsboro took set two 25-21 and won sets three and four 25-22.
Sophomore Caitlyn Callahan recorded 13 kills and 6 blocks, senior Brianne Keane made 38 assists, sophomore Ryann Adams made 12 digs, and senior Hannah Burnett added 11 digs. Senior Cheyenne Sherman scored 11 points with an ace and made 9 kills, senior Jillian Graver made 8 kills and scored 9 points, and sophomore Megan Starkweather had 9 points and 4 blocks.
Wellsboro also won the JV game 2-1 (25-13, 23-25, 15-7) to improve to 2-0.