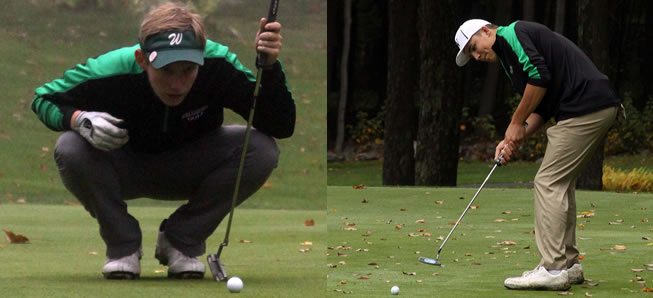 Barnett, Tuttle named to All-Region Golf team
By: Ed Weaver | NTL Sports | June 27, 2017
Sophomores Ben Barnett and Brandyn Tuttle were named to the Towanda Daily Review's All-Region Golf team on Monday, June 26.
Barnett had the 4th best average in the NTL during the 2016 season and Tuttle had the 6th best average. Both helped lead the Hornets to a 6th place finish at the District IV Championships.
"Ben and Brandyn both have spent a lot of time working on their golf games," said head coach Steve Macensky. "They were at the golf course almost everyday last summer and are continuing that trend this summer. They both are great kids. I have enjoyed watching their games continuing to improve. They both have very bright futures in golf."
WellsboroAthletics.com would like to congratulate Ben and Brandyn on being selected to the All-Region team.
View the complete 2016-2017 Towanda Daily Review All-Region Golf team.