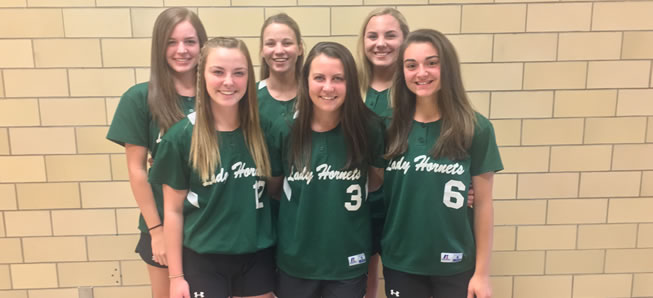 7 Lady Hornets named to All-Region softball team
By: Ed Weaver | NTL Sports | June 20, 2017
Seven members of the Wellsboro Varsity Softball team were named to the Towanda Daily Review's All-Region team on Monday, June 19.
Juniors Alyssa Yungwirth, Sydney Tremper, Kailee Clymer, and Brianne Keane and freshmen Cathryn Brought, Rileigh Gerges, and Ryann Adams were all named to the team.
Yungwirth was a first team selection and named the Pitcher of the Year. Yungwirth hit .500 at the plate with 6 doubles, 2 triples, 2 home runs, and 14 RBI's and was dominant on the mound. The NTL's Player of the Year was 16-2 during the year in 16 starts with 178 strikeouts in 155 innings of work.
Joining Yungwirth on the first team is Sydney Tremper. Tremper Tremper was fourth on the team in hits (24), led the team with 8 doubles, scored 15 runs, and drove in 10 runs. Tremper also recorded 211 put outs and 4 assists in the field without committing and error.
Keane and Clymer were both third team selections.
Keane record 26 hits, 15 rurns scored, 15 RBI's, and batted .377. Clymer was sixth in hits (21), led the Lady Hornets with 17 RBI's, was a perfect 7-for-7 in stolen bases, and made 22 put outs and 26 assists from her short stop position.
Brought, Gerges, and Adams were All-Rookie team selections.
Brought recorded 23 hits, scored 13 runs, drove in 14 runs, hit .329, was 6-for-7 in stolen bases, and was 2-1 on the mound in 5 starts with 27 strikeouts. Gerges had 5 hits, scored 5 runs, and drove in 6 runs. Adams was second on the team in hits (27), runs scored (18), had 9 RBI's, and hit .333.
WellsboroAthletics.com and WellsboroSoftball.com would like to congratulate Alyssa, Sydney, Kailee, Brianne, Cathryn, Rileigh, and Ryann for being named to the All-Region team.
View the complete 2017 All-Region Softball team selections.