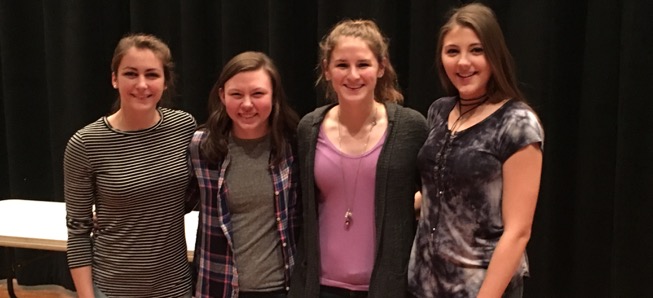 4 Lady Hornets named to NTL All-Star team
By: Ed Weaver | NTL Sports | March 24, 2017
Four members of the Wellsboro Girls Basketball team were named NTL All-Stars on Tuesday, March 21.
Juniors Lizzie Poirier and Rachael Tuttle were both 1st team selections, while seniors Janessa Davis and Autum Kitajima were 2nd team selections.
Poirier was the Lady Hornets' leading scorer with 336 points and shot a team-high 0.810 (34-for-42) from the foul line on the year. She also had 46 steals, 33 assists, and 174 rebounds.
"Lizzie usually attracted the opposition's best defender and defenses always looked to limit her," said head coach John Davis. "She showed leadership in practice as well as on the court, always encouraging her teammates and proving to be a great role model with her hard work."
Tuttle set two Lady Hornets' school records for rebounding, grabbing 22 in a game against Williamson and finishing with 335 for the season. Tuttle was also tops in District IV, and has grabbing 669 career rebounds.
"With her enthusiasm and vocal presence on the court, she is a player who makes her teammates better," Davis said. "Rachael has always been big for us on the boards, but this season she has expanded her role with contributions in the scoring column."
Davis led the Lady Hornets with 96 assists and scored 161 points this season, to go along with 57 steals. For her career, Davis finished with 147 career assists, 102 career steals, and 152 career rebounds.
"Janessa was a vital part of the defense's identity," said Davis of his daughter. "On offense, she looked to make her teammates better by getting them the ball in scoring opportunities. With her work ethic, she proved to be a great example in practice."
Kitajima was second on the team in assists with 88, third in steals with 55, and fifth in scoring with 148 points. She finished here career with 205 career points, 151 assists, 82 steals, 7 blocked shots, and 114 rebounds.
"She helped set the tone on defense with her hustle and passion," concluded Davis. "Autum never hesitated to get on the floor for a loose balls or go toe-to-toe with a good opponent. Because of this, she was always assigned the task of 'harassing' an opponent's point guard."
WellsboroBasketball.com would like to congratulate Lizzie, Rachael, Janessa, and Autum on their selections and thank them for all their hard work and dedication during the season.
View the complete 2016 NTL Girls Large and Small School Division All-Star teams.