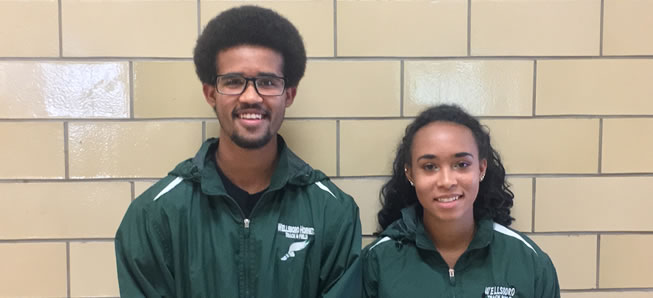 4 Hornets named to All-Region track team
By: Ed Weaver | NTL Sports | June 14, 2017
Four members of the Wellsboro Track & Field team were named to the Towanda Daily Review All-Region team on Wednesday, June 14.
Seniors Dupree Hosey and Samantha Spurgeon, junior Kaitlyne Kramer, and sophomore Dahlia Hosey were all named to the team.
Dupree Hosey was named Field Athlete of the Year, 1st team long jump, and third team triple jump. Hosey had a career year in 2017, just his second year of track, as he took home 2nd place at the District IV Championships in the long jump (21-ft, 7-in) and 4th in the triple jump (41-ft, 0.45-in). Hosey competed at the PIAA Championships in the long jump where he finished 25th.
Dupree's sister Dahlia was a 1st team wild card selection for the triple jump and was a 3rd team pick for the long jump. Dahlia qualified for the PIAA Championships with a 2nd place finish at Districts in the triple jump. Hosey went on to finish 4th overall in the state with a jump of 36-ft, 9-in.
Kramer (pole vault) and Spurgeon (javelin) were both third team selections. Kramer finished 2nd in the NTL Championships with a vault of 8-ft, 6-in, a height she hit three times during the year. Spurgeon led the Wellsboro girls javelin throwers at 104-ft, 7-in.
"I'm so excited that we had 4 members of the team make the All-Region team this year," said head coach Elizabeth Hoover. "These kids worked hard, and I'm glad to see their accomplishments rewarded."
WellsboroAthletics.com would like to congratulate Dupree, Samantha, Kaitlyne, and Dahlia on being named to the All-Region team.
View the complete 2017 All-Region Track & Field team.