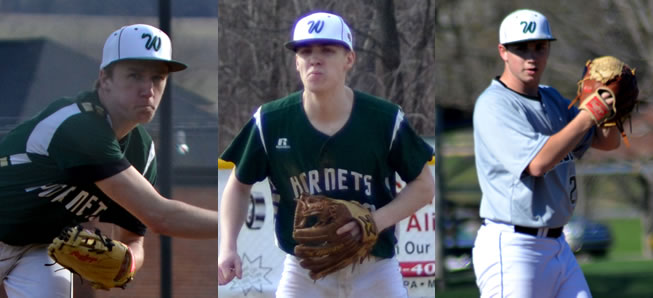 3 Hornets earn NTL All-Star baseball honors
By: Ed Weaver | NTL Sports | June 7, 2017
Three members of the Wellsboro Varsity Baseball team were named to the NTL All-Star team on Sunday, June 4.
Juniors Johnny Rowland and Dalton Prough were both first team selections and freshman Carson Davis was a second team pick.
Rowland led the Hornets in the pitching department, going 9-2 overall with 42 strikeouts. Offensively Rowland was second on the team in hits (26), third in runs scored (14), and third in batting average (.356).
"Johnny was recognized by the NTL coaches for his pitching efforts," said head coach Philip Prough. "At the top of the league in wins, Johnny was our workhorse. He doesn't have overpowering speed, but his ball movement is deceptive to hitters. He's one of the grittiest pitchers we've had in Wellsboro. Offensively, Johnny is disruptive. He's one of the best players in the league at reading the ball once it's pitched. Combined with his excellent speed, Johnny is a dangerous base runner."
Prough led the team in multiple offensive categories, including: hits, runs, doubles and stolen bases. His batting average of .415 and OBP of .520 was among the best in the NTL. Defensively, he only committed 3 errors in 79 total chances from the shortstop position.
"Dalton's all-around skills was prevalent throughout the year," continued Prough. "As our leadoff hitter, Dalton often set the tone for our team. As good as his offense was this year, his defense was even better. He solidified the middle of our defense. On many occasions his range and arm strength robbed hits from opponents. Turning 6 double plays during the year, Dalton gives our pitchers confidence to pitch to contact."
Davis led all NTL first basemen with 0 errors for the year on 129 chances. He batted cleanup for us and hit over .300 while collecting over 20 hits. In addition, Carson was our number 2 starter and featured 3 pitches in his repertoire. Most notably, he drove in the winning runs to secure the Hornets' playoff berth en route to the team's first-ever District IV championship.
"Carson had a great freshman year," concluded Prough. "He contributed in all facets of the game, which is rare for a freshman. Defensively, he was a rock at first base. Offensively, he could hit for power or lay down a bunt. As important, he provided the team with a solid number two starter. Carson's all-around play was one of the keys to our success. Obviously, his talents were noticed by the other NTL coaches and deservingly so."
WellsboroAthletics.com and WellsboroBaseball.com would like to congratulate Johnny, Dalton, and Carson on being named to the All-Star team.
View the complete 2017 NTL All-Star baseball team.