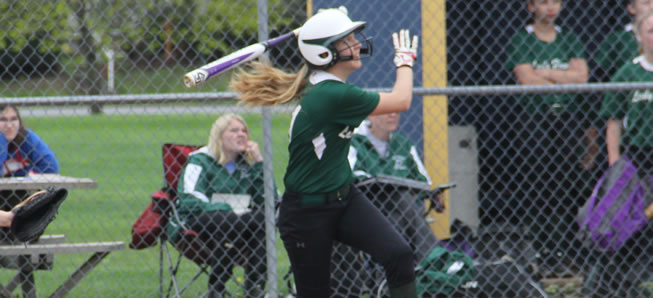 Ingerick, Yungwirth receive Player of Year honors
By: Ed Weaver | NTL Sports | June 7, 2016
Senior Sarah Ingerick (Player of the Year) and sophomore Alyssa Yungwirth (Pitcher of the Year) led Wellsboro's six NTL All-Star selections from Monday, June 6.
Ingerick, Wellsboro's all-time hit leader (118), finished a great career by hitting .405 (32-for-79) with 22 runs, 6 doubles, a triple, a home run, and 28 RBI's to help guide the Lady Hornets' to their second straight NTL Large School championship and third in four years. Yungwirth led the team with 11 wins in 12 starts on the mound, with 157 strikeouts and 18 runs allowed in 102 3/4 innings of work.
Also earning first team honors in the outfield were seniors Darci Warriner and Jenny Young. Warriner was second on the team in hits (27), third in runs scored (16), and had 5 doubles, a triple, and home run while batting .403 for the year. Young was third on the team with 26 hits, was second in runs scored (23), and had 4 doubles and 4 RBI's.
On the second team were senior Alexa Singer (pitcher) and sophomore Sydney Tremper (catcher). Singer went undefeated (8-0) in 11 starts with 49 strikeouts and 10 runs allowed in 51 1/3 innings of work. Singer was also 35-12 (.745) in 55 career starts on the mound. Singer pitched 284 1/3 innings, faced 1,195 batters, struck out 212, and gave up 224 hits and 105 runs.
Tremper hit .356 (26-for-73) with 4 doubles and 6 RBI's. Defensively she allowed only 3 stolen bases on 7 attempts, and recorded 18 put outs and 11 assists.
WellsboroAthletics.com would like to congratulate Sarah, Alyssa, Darci, Jenny, Alexa, and Sydney on their selections, and thank them for their hard work and dedication during the season.
View the complete list of NTL All-star softball athletes for 2016.