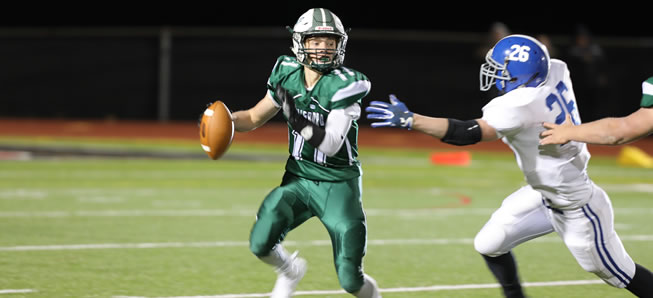 Henry, Jones, Pietropola named NTL Large School Players of the Year
By: Ed Weaver | NTL Sports | December 7, 2016
Junior Quinn Henry was named NTL Large School Player of the Year, senior Parker Jones was named Defensive Player of the Year, and junior Collin Pietropola was named Linemen of the Year as the NTL released their All-Star football selections on Tuesday, December 6.
Henry had an outstanding season, leading the Hornets in rushing (1,074), passing (846), and all-purpose yards (1,297) and helped the Hornets acheive their second undefeated regular season and a District IV semi-final appearance.
Jones was third on the team with 96 tackles from his defensive end position, and led the Hornets with 7 sacks on the year. Pietropola anchored the top offensive line in the league and helped to produce 3,304 rushing yards.
Head coach Matt Hildebrand and staff were also named Coaching Staff of the Year.
Henry (QB), Jones (TE), Pietropola (C), and senior Ethan Nichols (T) were all first team offensive selections, and junior Chase Moser (RB), senior Taylor Baker (G), and senior Brandon Lamphier (Versatility), and junior Nic Ingerick (K) were second team offensive selections. Sophomore Robert Brown (FB), junior Dalton Prough (WR), junior Alex Kozuhowski (WR), and seniors Kaleb Smith (T) and Dominic Spencer (G) were all honorable mentions.
On the defensive side of the ball, Spencer (DT), Jones (DE), Pietropola (LB), Robert Brown (LB) were all first team selections, and Pietropola was a second team punter. Smith (DT), sophomore Hunter Brown (DE), Moser (SS), Henry (FS), Prough (CB), and Kozuhowski (CB) were all honorable mentions.
WellsboroFootball.com would like to congratulate all the Hornets on their selections and thank them for all their hard work and dedication during the season.
View the 2016 NTL Large School Division Football All-Stars.
View the 2016 NTL Small School Division Football All-Stars.