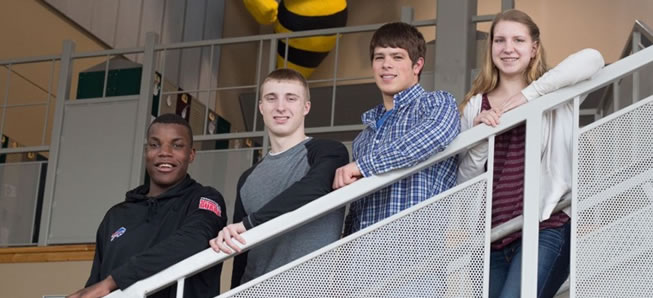 Four Hornets named to NTL All-Star team
By: Ed Weaver | NTL Sports | March 17, 2015
Four members of the Wellsboro basketball teams were selected to the NTL All-Star team on Monday night, March 16.
Junior Sarah Ingerick was the girls only selection. Ingerick was a first team selection as she scored 308 points, giving her 780 for her career. Ingerick also led the Lady Hornets in free throw percentage (0.588) and steals (57).
The boys had three selections. Seniors Michael Pietropola and Kieron Smethers were both first team selections and Junior Dawson Prough was a second team pick. Pietropola and Smethers were both named Offensive and Defensive Players of the Year, respectively.
Pietropola torched the NTL this season as he scored 464 points and broke the 1,000 point milestone against Northeast Bradford on January Friday, January 16. Pietropola finished his career with 1,186 points.
Smethers led the Horents with 56 assists, 56 blocks, 40 steals, 246 rebounds, and was the second leading scorer on the team with 322 points. Smethers ended his career with 830 points, 672 rebounds, and 147 blocked shots
Prough was the Hornets' third leading scorer with 150 points while recording 30 assists, eight blocks, and 22 steals.
WellsboroAthletics.com would like to congratulate Sarah, Michael, Kieron, and Dawson on their All-Star selections, and thank them for all their hard work and dedication during the season.