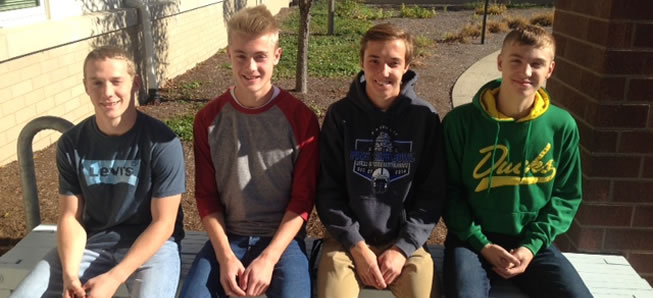 Four Hornets make NTL All-Star soccer team
By: Ed Weaver | NTL Sports | October 27, 2015
Four members of the Wellsboro Varsity Boys Soccer team were named to the NTL All-Star team on Monday, October 27.
Three Hornets were first team selections. Junior Josiah Hill was a first team striker, senior Tucker Worthington was a first team selection at midfield, and sophomore Dalton Prough was a first team defender.
Rounding out the Hornets' selections was senior Nick Webster as a second team defender.
"I'm very proud of the young men who got selected to the first and second team," said head coach John Shaffer. "I'm disappointed more of the team did not get picked but that's politics sometimes.
"Josiah has had a stand out year up front in all facets. Tucker has been a midfield rock for years and a great team leader. Dalton is a natural center back and in my opinion he's the best defender in the league. He should've been the defender of the year even for a sophomore. Nick Webster has had a breakout year as a right back. His second team nomination was well deserved.
"All of these awards are a credit to the team. None of them would be possible without the team around the individual," concluded Shaffer.
WellsboroAthletics.com would like to congratulate Josiah, Tucker, Dalton, and Nick on their selections, and thank them for their hard work and dedication during the season.
View the complete 2015 NTL Soccer All-Star Teams.