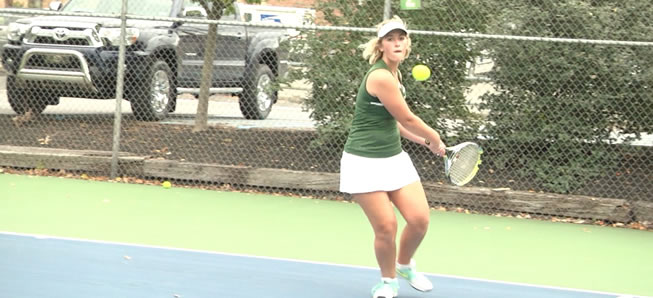 Clemens named NTL Player of the Year
By: Ed Weaver | NTL Sports | October 29, 2015
Senior Maddy Clemens was named the NTL girls tennis Player of the Year on Tuesday, October 27.
"I worked hard this season, so I'm proud and honored to be awarded the NTL Tennis Player of the Year," Clemens said.
Clemens (11-4) and senior Shyann Foreman (7-8) were both first team singles selections and senior Taylor Crawford (6-5) and sophomore Olivia Ryan (9-2) were second team doubles selections.
Foreman and Clemens (10-1) also took home first team doubles honors.
"It is unusual for a #2 to be named player of the year but she was the only undefeated player of the year within our league so she certainly deserved it," said head coach Jill Gastrock. "She is a tough mental player."
In addition to the player selections, the Wellsboro coaching staff of Gastrock, Margery Hoffman, and Brianna Thompson were named Co-Coaching Staff of the Year.
"It was awesome to have two dedicated assistants for the past two years," Gastrock said of her staff. "We can do so much more during the season and the girls respond better to one versus another so we have that benefit. However, the girls have worked hard and had the experience to make us look good. They deserve the credit for sticking with the sport and working hard in the off season."
WellsboroAthletics.com would like to congratulate Maddy, Shyann, Taylor, Olivia, and the coaching staff on their selections, and thank them for their hard work and dedication during the season.