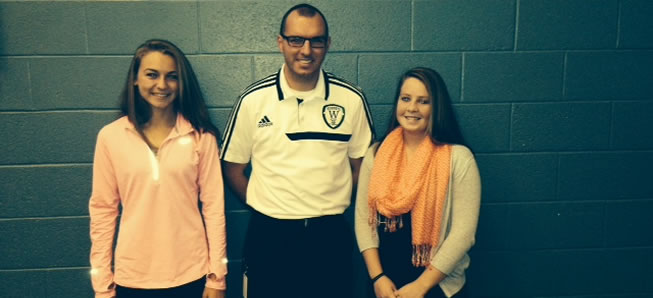 Shaffer NTL Coach of the Year; Bleggi and Kohler selected to All-Star team
By: Ed Weaver | NTL Sports | October 23, 2013
Wellsboro Varsity boys soccer coach John Shaffer and Lauren Bleggi and Brooke Kohler were selected to the NTL All-Star teams recently.
Bleggi and Kohler were both second team selections at forward and midfield, respectively, while Shaffer was selected as coach of the year.
"I'm just excited to be able to be a part of the All-Star team," Kohler said. "It's such an honor to be selected onto the team with Lauren. It was a great year and I couldn't have done it without my team!"
"I am honored to have made the team," Bleggi stated. "I'm so proud of all of the other girls on my team too. It was a group effort this year and I couldn't have done it without the help from them or my coaches. It was such a fun season and I can't wait until next year."
For Shaffer, the award comes in his fourth year as the head coach. Under Shaffer this year, the boys finished with a regular season record of 14-4 and were league runner ups behind Sayre. Last year, the Hornets finished 7-11-1.
"It is an honor to be named coach of the year by my fellow NTL coaches. They are a wonderful group of very knowledge men and for them to select me as coach of the year in a honor," Shaffer said. "I have to thank my assistant coach Todd Fitch, I believe this award is for us not just me. I am very lucky to have an assistant coach with the knowledge and experience to be a head coach but also with the passion to teach fundamentals and work with the JV. Our team would not have been as successful this year and thus I would not have been named coach of the year without the skill set that Todd has helped to instill in the players from their freshman year on.
"Finally I would like to acknowledge the players, this award is for them as well. In my fourth year as head coach I finally have all of my players, who know my expectations and understand my coaching style. Their willingness to buy in to the philosophy and to work hard has earned us the wins that resulted in me being named the coach of the year."
WellsboroAthletics.com would like to congratulate Coach Shaffer, Lauren, and Brooke on their All-Star selections, and thank them for their hard work and dedication to their respective teams.