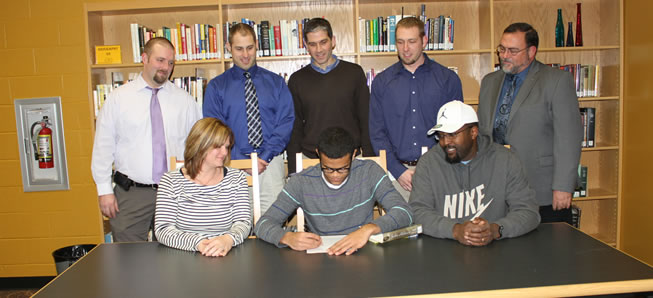 Jackson signs with Bucknell
By: Ed Weaver | NTL Sports | February 20, 2013
Earlier in February, Senior Jordan Jackson signed his letter of intent to attend Bucknell University on a full athletic scholarship. Jackson, a multi-sport athlete, will run cross country and track next year for the Bison.
"The recruiting process was really fun, I enjoyed getting all the letters and phone calls from various coaches," Jackson said. "I've loved Bucknell since I was young and the coach made me a great offer that was too good to pass up."
In cross country, Jackson is a two-time state medal winner along with multiple All-Region and NTL All-Star selections. In the 2012 season, Jackson finished 17th in the state with a time of 16:54.
"Jordan is an incredible young man. He has the rare mix of tremendous talent as well as the work ethic to bring his potential to fruition," said cross country head coach Tom Slichter. "Over the past two seasons of cross country he has led by example by working hard to accomplish his goals as well as the team goals."
Jackson is also a standout on the Hornet Track team. Jackson qualified for states during the 2012 season afinished third in the state in the 800m with a time of 1:56.48 and was selected to the All-Region first team in the 800m and the second team in the 1600m.
"Jordan is one of the most gifted athletes I have had the privilege to coach," said former boys head track coach Matt Hildebrand. "Jordan not only has raw talent, but also a work ethic and drive to want to be the very best at everything he does.
"I am very proud of Jordan and everything he has accomplished while at Wellsboro, but truly believe that it is only the beginning for him. I think Jordan's potential has only began to be tapped into. I believe Jordan will reach his full potential as he takes the next step to Bucknell University in the fall. Bucknell is not only getting a great athlete and scholar but also a great person," Hildebrand concluded.
WellsboroAthletics.com would like to congratulate Jordan on his signing and wishes him the best in his college career.